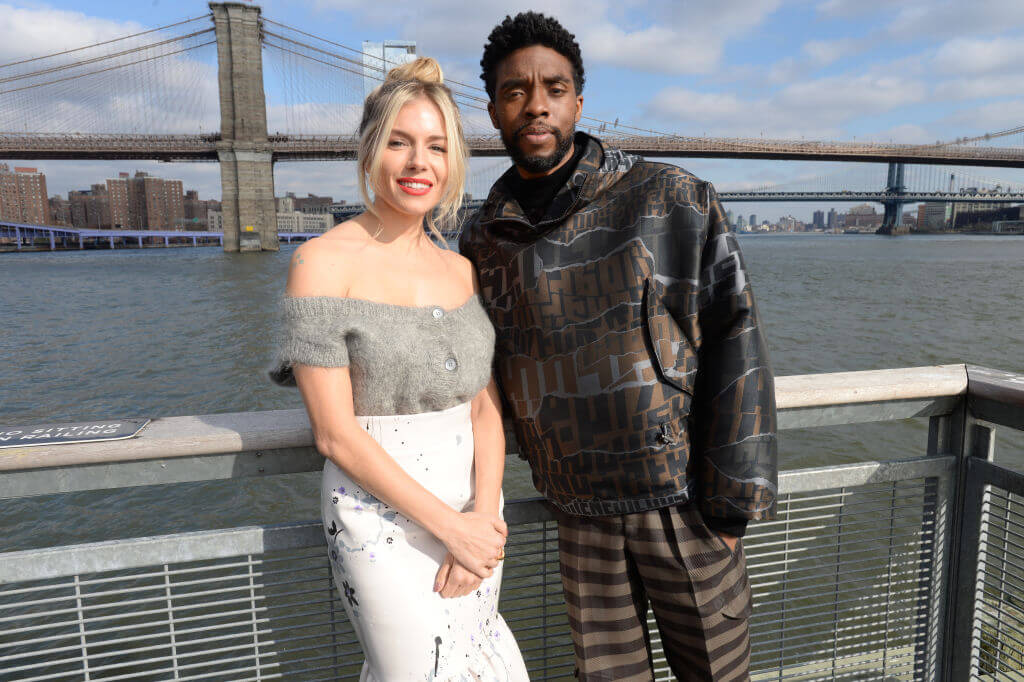 NEW YORK, NEW YORK – NOVEMBER 19: Sienna Miller(L) and Chadwick Boseman poses during a photo call for "21 Bridges" at The Fulton on November 19, 2019 in New York City. (Photo by Brad Barket/Getty Images for STXfilms)
Some people talk the talk and others like the late-great, Chadwick Boseman walk the walk. Stories continue to come out about how amazing of a person the Black Panther star was. We all know about the inequity that exists in Hollywood when it comes to the way women actors are paid less than their male counterparts and don't get us started on the inequity actors of color experience in Tinsel Town. Leave to Chadwick Boseman to do his part to change the narrative as one of the producers on the film 21 Bridges.
In a new interview for Empire's October issue celebrating the late Chadwick Boseman, Sienna Miller talks about how the Thurgood Marshall actor gave part of his 21 Bridges salary to her to make up the difference in her pay for the film.
Miller gave her recollection of what transpired regarding what she would be paid. "I didn't know whether or not to tell this story, and I haven't yet. But I am going to tell it because I think it's a testament to who he was. This was a pretty big-budget film, and I know that everybody understands about the pay disparity in Hollywood, but I asked for a number that the studio wouldn't get to."
"And because I was hesitant to go back to work and my daughter was starting school and it was an inconvenient time, I said, 'I'll do it if I'm compensated in the right way.' And Chadwick ended up donating some of his salary to get me to the number that I had asked for. He said that that was what I deserved to be paid."
"It was about the most astounding thing that I've experienced," said sienna miller
Popular Posts
Sorry. No data so far.