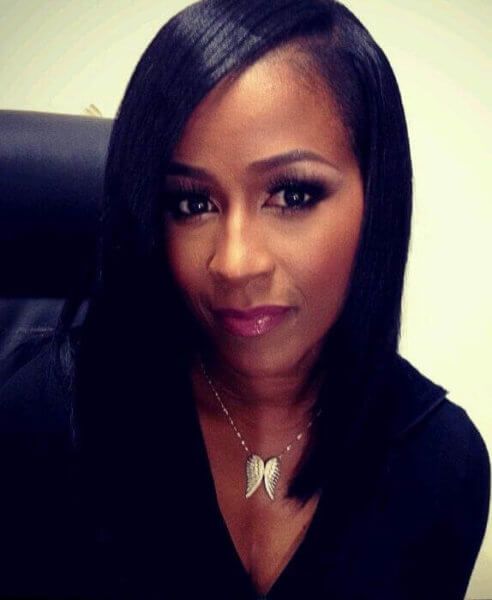 Radio Facts: Oakland, California, native Tina Davis developed a natural flair for music and media early on. She has worked her way up to becoming one of the most influential A&R execs in the industry, first as senior VP of A&R at Def Jam for more than a decade. She is currently VP of A&R for independent Bay Area music and distribution company Empire, which inked deals recently with Universal Music Group and Hitco, and is also developing and producing television content.
How did you get your start in the industry?
I got my start in the industry by working as an assistant at Chrysalis Music Publishing for my best friend from high school, LaRonda Sutton. Then interning for Def Jam's A&R staff while working as an A&R admin for them on the West Coast.
Did you go to college? I attended Grambling State University in Louisiana.  I did not finish. I had one year left and I decided to seek a job in the music business. I envisioned being a sports anchor and reporter.  I loved journalism and being at the anchor desk in front of the camera.
I changed directions because I could no longer get financial aid so I decided to go for my love which was music.  I played classical piano for 13 years and knew I didn't want to be a pianist. I chose to focus on the music business.
You started off on the performing side in Oakland then decided you wanted to work for Def Jam. Do you still have the urge to be in front of the camera? 
Yes, I do have the urge to be in front of the camera.  I recently created, executive produced and appeared on a new, ten-episode show called "The Next Big Thing" on BET that's due out this fall.
Empire is described as an independent music distribution company. What are some of its artists and projects? Empire is an independent music distribution company, but it also a music label.  We have Young Dolph, Tyga, Lil Duval, Wande Coal, Jade Novah, MAJOR, Mario, Trevor Jackson, Cierra Ramirez many more. I'm responsible for everything concerning the artist and repertoire.
You worked in A&R at Def Jam for a decade. What artists are you most proud of having worked with?
I'm most proud of working on Scarface "The Fix," DMX, Case, Montell Jordan, Music Soulchild, LL Cool J, The Nutty Professor, and the Rush Hour soundtracks.  There were so many great projects … and proud moments.
Are there challenges for women executives within the world of A&R?
There are absolutely challenges for women executive in the world of A&R.  It is hard to maintain a relationship if you're in the studio all night and morning with stars.  Your relationship becomes a messy pool of insecurity and hurt.
You sometimes find that your business etiquette and kindness is mistaken for a personal interest and you have to get past that and get the music done and on time within budget.  I have found that the majority of the artists that I've worked with respected my position and knowledge. However, there were others that needed to be reminded from time to time.
Has it changed since you started in the business?
It has changed for me because of what I have accomplished.  I cannot say what the junior female executives have to go through.  I somehow feel they may be going through bigger challenges than I did when I was a young A&R.  However, we didn't have Human Resources for a period of time.
Tell me more about "The Next Big Thing" on BET. What type of show is it, who is on it?
"The Next Big Thing" is airing in the fall on BET.  It's a music competition show that takes contestants through an artist development boot camp.  
The boot camp includes the tools that are needed to become a star. You're competing against yourself.  If you put in the time and use the tools that are provided you can be The Next Big Thing. I created the show to give those fans that don't have a deal and that don't have direct access to A&R reps the opportunity and the skills needed to be better.  
If they all learn from the tools music and artistry will elevate. That will be my contribution to music overall. That kid that's in the heart of his town and never believed he could be heard and learn from the greats, will have that opportunity to shine!
In BET's "The New Edition Story," their manager had a massive heart attack dealing with them. Would you say that most artist managers should expect the same outcome? 
I don't think all managers will have the same outcome that New Edition's manager had.  If you're emotionally invested and it's your only income source, you can very well be stressed out. 
It's a 24-hour job … An artist manager does it all. They manage everyone that is involved in the artist's career.  They bring opportunities to their clients and manage their ancillaries. 
What kind of advice would you give a young manager today? 
The advice I would give is to have more than one client at all times.
What has been the most challenging and the most rewarding part of being a manager?  
The most rewarding part of management is seeing a new artist break and rise to stardom.  The most challenging part of management is getting an artist that has major success to do what they did to get there.
The industry has drastically changed over the last two decades. What do you think happened to R&B?
I think there were a few things that happened to R&B.  One is the fusion of hip-hop and R&B.  Rappers are singing and singers are rapping.  The other thing is the lack of respect for musicianship and production.  Who is the modern Quincy Jones? I also feel that the creation of autotune allowed people that can't sing a fighting chance.
How important is it for today's artists to know about black music history?  
It is very important for artists to know about music history, in general, to strive for greatness and to carry on the legacy that precedes them.  However, it is not important for success anymore.
Could this be the disconnect with R&B today? 
It is absolutely one of the reasons for the disconnect in R&B music today. However, the biggest disconnect is the lack of artist development. Especially in these times of streaming, touring is the biggest money maker for urban artists.  
How do you keep up with music trends? 
I keep up with trends by having young adults around me as much as possible and knowing the history of art and life. Nothing is reinvented on the wheel of art and life, it's just enhanced and developed through experience.
What are your thoughts on the streaming industry and the future of options for music fans?  
The streaming industry has taken over. Consumers consume music freely through subscription.  The downfall is that artists, writers, and producers do not get paid what they used to get paid so they rely on ancillary income like touring, PROs, Sound Exchange and merchandise.