Radio Facts: Radio Facts: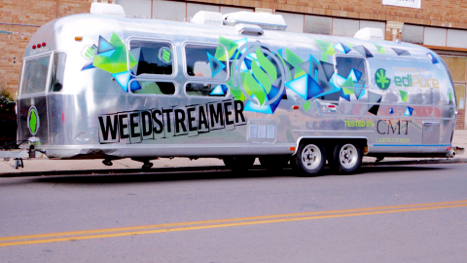 WeedStream.net unveiled the "WeedStreamer" this past weekend at two Denver events to great fanfare. The renovated Airstream trailer made its debut Friday night in front of 400+ local budtenders at a private industry event, and then it hit South Broadway on Saturday for the Munchie Crawl to benefit the non-profit Art of War.
WeedStream CEO Mike Henry said, "The WeedStreamer is one-of-a-kind promotional vehicle for the legalized marijuana culture in Colorado. It will be seen and used at local concerts, festivals, dispensaries and industry events. The WeedStreamer is now the collective property of the cannabis culture that we belong to and all the people who will enjoy it for years to come."
The WeedStreamer is a newly-renovated 1974 31 foot Airstream trailer that is now tricked out as a cannabis-friendly promotion and high tech entertainment vehicle. Renovation was done by a team of war veterans. Local street artist Patrick McGirr provided the outside art. EdiPure is the title sponsor, and CMT Laboratories is another early sponsor.