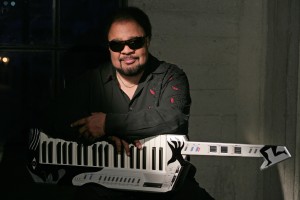 Radio Facts editor kevRoss talked to Vic McLean, a former Universal Music Group Manager for Verve Music and one of George Duke's closest friends this morning.
McLean is as expected, devastated by the news and states he quit his position at Verve to work with George Duke exclusively. George had surgery yesterday and was in the hospital under an alias in Los Angeles. Unfortunately, he did not pull through.
Radio Facts : What was it like to work with George?
Vic McLean: George was the best producer, writer, engineer, performer, and arranger, you name it. He was a workaholic who loved what he did. He could take a person who sings flat, like Dee Dee Bridgewater and make her sound amazing.
Quincy Jones is great at putting people together but George could do it all. Many people didn't know many of the other things that he did. He didn't often get the support that he needed from the major labels but he was truly amazing.
Whenever we were on the road no matter if he opened, was the 2nd, 3rd or close to the last act, George always stole every fuckin' show. (laughs) He had old people in walkers jamin' in the house.
RF: How did George feel about being an older artist in today's industry?
VM: George had the same issues that many older artists have with record companies. Lack of promotion. The two independent records that we did together sold more than his major label releases did. He also never saw the kind of revenue he should have seen.
RF: Was George depressed during the 1st anniversary of his late wife Corine's death recently?
VM: When people are very close and they are together for a long time this is usually what happens. After one goes the other one follows. They had a very unique marriage. She was his rock. George knew his time was near.
He always kept his health issues close to the vest. The Concord label that he gave the last record to recently was a true George Duke record. I hope they promote this record right.
RF: How are his children doing?
VM: His son Rachid is overwhelmed. He's had to deal with the loss of his mom and his dad within a year.
RF: Have you talked to Stanley Clark?
VM: I called Stanley a couple of times this morning and I have not been able to reach him. Like the rest of us, he's probably devastated about the whole thing.
RF: Any closing words about George?
VM: The best time I have had in my entire career in the industry was working with George Duke independently. I had him up at 5am and wanted to ensure we treated every release like we never put out a record before.
He did everything I asked him to do and just had a great work ethic. Thanks so much, Kevin. Having an opportunity to talk with you has really helped me this morning.