Radio Facts: Radio Facts: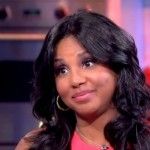 TMZ broke a story about Toni Braxton losing some of her songs and it seems as if this is true. Toni struck a deal in her bankruptcy case, in which she settled with her various debtors. The deal included a clause where Toni could buy back 27 songs from her music catalog for $20K but the deal also included a clause where Ms. Braxton could be outbid.
Unfortunately for Toni, a man by the name of Ross M. Klein doubled Toni's price and he now owns 27 of her songs.