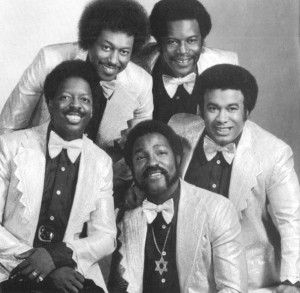 The Spinners have had a very interesting tenure. They are one of a very few groups who have had so many changes with lead singers and still managed to remain relevant hit makers.
I remember one of my favorite songs as a kid was "It's a Shame" (written by Stevie Wonder) but I always knew the Spinners sounded very different after that song. Turns out G.C. Cameron had joined the group while they were sitting on the back-burner at Motown records for years. Surviving members of the group admit they did anything to stay on the label including driving Berry Gordy's mother around and cleaning the studios. Motown had such low expectations of the group that "It's a Shame" a smash hit, sat on the shelf for a year before it was released in 1970. By the time the song was released, the group's contract with Motown was finally up and they opted not to renew since Motown had shown such little interest in them and had so many male groups on the label. They were now a hot commodity with a hit on their hands and they knew it would be in their best interest to exit.
Leaving was not easy because the lead singer G.C. Cameron was in a relationship with Berry Gordy's sister and he wanted a solo career, which Berry gave him, but his cousin Philippe Wynne (born Phillip Walker) wanted to be a singer and he was immediately hired to join the group after they heard him sing.
Philippe's massive ego was evident from the start, according to group members, and they knew no matter how long he stayed, it was going to be temporary. Philippe did not sing leads on many of the group's songs but he was credited for being an excellent ad-libber (at the end of songs the "bring it home" guy) and the group gave him more spotlight until he wanted to change the name of the group to Philippe Wynn and the Spinners. It was all downhill from there and Philippe eventually left the group to a devastating career as a solo artist, releasing two flop albums and ending up singing background (ad libbing) on Funkadelics' "(Not Just) Knee Deep." Wynne tragically died at the age of 43 in 1984 from a massive heart attack during a performance in Oakland, CA. Group members have since suffered many health issues and deaths over the years and I will leave the rest of the story for you to watch on June 13. Check local times for listings on TV One
Kev Ross/Editor
Radio Facts