Billboard chart-topping composer/arranger Kitt Wakeley received a "Best Classical Compendium" GRAMMY® Award today for his most recent release, An Adoption Story. Sharing the award with Wakeley are his two co-producers: lauded composer, pianist, conductor, arranger, music director Starr Parodi and Jeff Fair.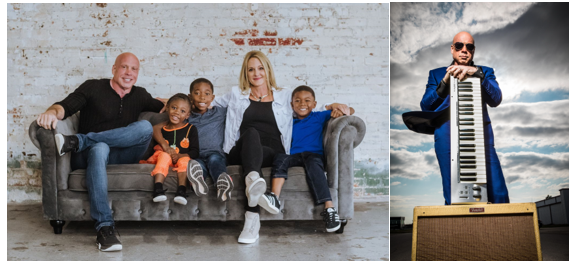 "Winning a GRAMMY is the highest honor of my music career and today I have the privilege of receiving the gold statuette. I'm so honored that this album and the GRAMMY process have cast such a positive light on foster care and adoptive families. I'm blessed to have worked with such an amazing team of musicians and music creatives who were able to elevate my music into something that captured the passion and spirit behind it. 
I'll embrace this moment with the utmost humility and cherish the moment with my family, friends, and peers for the rest of my career," said Wakeley. "I'd like to thank The Recording Academy for this opportunity and to congratulate all the nominees and fellow winners. The quality of this year's GRAMMY submissions was spectacular."
An Adoption Story features the London Symphony Orchestra recorded at the famed Abbey Road Studios, plus stellar featured guests, including Grammy Award-winning South African flutist Wouter Kellerman, 15-time Grammy Award-nominated guitarist Joe Satriani, among many other talented musicians. The album features additional production by three-time Grammy Award-winner Tre Nagella, mixing by Eva Reistad, and mastering by four-time Grammy Award-winner Gavin Lurssen.
An Adoption Story is Kitt's personal musical voyage that explores his time in the foster care system as a young child where he was separated from his half-sister, Tasha, his subsequent adoption into a loving family, reuniting with Tasha decades later, and to the present, where Kitt and his wife Melissa adopted three siblings — Chris (9), KJ (7), and Nia (6) — to keep them from going through the same trauma of separation he experienced. A year after the adoption of Chris, KJ, and Nia, Kitt's story about reuniting with Tasha spread to national media.
An Adoption Story is available to purchase at https://lnk.to/AnAdoptionStoryPR. All net proceeds from sales of the album and single tracks will be gifted to the Dave Thomas Foundation for Adoption to benefit the charity's foster and adoptive programs.
Kitt's previous album, 2021's orchestral rock Symphony of Sinners & Saints (Vol. 1), debuted at No. 1 on Billboard's "Classical Albums" and "Classical Crossover Albums" charts as well as at the upper reaches of numerous rock and hard rock singles charts. 
With Wakeley on synths and piano, the album featured Satriani on two tracks as well as the talents of the Royal Philharmonic Orchestra conducted by Cliff Masterson (Little Mix, Kylie Minogue, Il Divo, Oasis), Grammy-nominated pianist Paul Loomis, guitarist Andy Timmons (Danger Danger, Pink), the London Voices choir and many more talented musicians. Symphony of Sinners & Saints Vol. II The Storm, Kitt's upcoming orchestral rock album, will be released in Q2 of 2023.