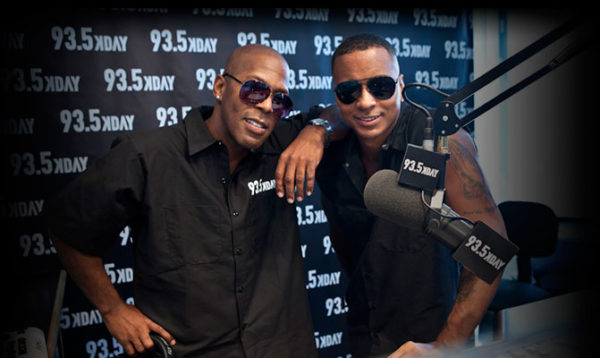 93.5 KDAY-FM radio, SoCal's legendary home of original hip-hop and R&B, the first Radio Station in the nation to originate the 24 hour hip-hop & R&B format, and the leading media brand under Meruelo Media, announced the start of its new Morning Show with Tha' Goodfellas, broadcast daily, Monday through Friday from 5:30 a.m. to 10:00 a.m.
"The mainstream popularity and cultural importance of hip-hop which KDAY helped build was proven by this weekend's blockbuster opening "Straight Outta Compton,"exclaimed Otto Padron, President of Meruelo Media, "…as such, bringing back KDAY mornings with our music, humor, and comedic irrelevance is what Tha' Goodfellas will do better than anyone else in this industry."
Tha' Goodfellas, Romeo & Dejai, are childhood friends, originally from St. Louis, Missouri, and are well-recognized familiar voices in Southern California. They have successfully worked in radio, television, film and music for more than 20 years.
"KDAY Mornings with Tha' Goodfellas will continue to showcase our unique music brand with relevant narrative, humor and a rare passion that have given Romeo and Dejai an authentic connection to our KDAY Nation," stated Radio Station Program Director, Adrian "AD" Scott. "We are going to take our West Coast "Back in the Day" attitude to the next level."
Tha' Goodfellas, ring in LA morning's on 93.5 KDAY, current programming continues with on-air personalities "Cece The Mamacita", midday's from 10 a.m. to 3 p.m. and "PJ Butta" in the afternoons 3 p.m. to 7 p.m. Visit them on social media at #thagoodfellasKDAY.
For more information about 93.5 KDAY programming, upcoming events, promotions and ticket giveaways, visit www.935kday.com, and find us on Twitter at @935KDAY, on Facebook at Facebook.com/935KDAY.