Radio Facts: Radio Facts: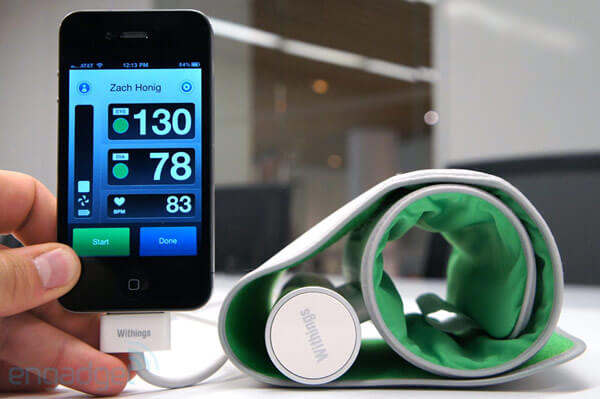 Withings announces today the FDA clearance and USA retail debut of its new Wireless Blood Pressure Monitor. By making it completely wireless and adding Android compatibility, Withings takes its vision of user-friendly connected health even further. To ensure that this revolutionary device has an actual impact on national health figures, Withings has joined the AMGA's Measure Up/Pressure DownTM hypertension campaign as a special project sponsor.
Home Monitoring To Beat The Silent Killer
With hypertension affecting 25% of the world's population (1), 50% of whom are unaware about the severity of their condition(2), developing home monitoring is a major public health issue. The new Wireless Blood Pressure Monitor demonstrates how Withings is committed to making home monitoring as accessible and simple as possible. The device keeps its award-winning sleek design yet also greatly expands its reach by featuring Bluetooth 4.0 connectivity and Android compatibility.
As Cédric Hutchings, CEO & co-founder of Withings, puts it: "We want to empower patients to be consumers of their own health and make choices in their method of prevention and care. Designing attractive and simple to use devices is the only way the connected health revolution can become a reality."
Collaborating With The American Medical Group Association
Withings is sponsoring a project with the AMGA's Measure Up, Pressure Down ™ national campaign to help them reach their goal of having 80 percent of hypertensive patients in control of their condition by 2016. Over the course of 18 months, Withings has committed to fund a major study and donate 150 of its new Wireless Blood Pressure Monitor to four AMGA medical groups to demonstrate how hypertensive patients engaging in home blood pressure monitoring will help lower their blood pressure.
"At-home monitoring, when done in conjunction with a health care provider, is an important way patients can measure, monitor, and improve their high blood pressure," said Donald W. Fisher, Ph.D., CAE, President and Chief Executive Officer of the American Medical Group Association. "AMGA and our Foundation look forward to working with our medical groups and Withings to improve patient health and learn more about the effectiveness of home blood pressure monitors."
Simplicity For Long Lasting Compliancy
To take measurements, users simply wrap the cuff around their arm and turn on the device. It automatically connects with a smartphone via Bluetooth and instantly opens the Withings Health Mate application. By tapping the start button within the application, the cuff inflates and commences taking the users' systolic and diastolic blood pressure as well as heart rate. Results are systematically shown on the screen of the iOS or Android device, saved to show trends over time, and compared to population standards for better individual understanding. The application also allows users to set reminders to take regular measurements and send readings to a physician, medical professional, family member, or caregiver.
Availability
The Wireless Blood Pressure Monitor is joining the unique Withings product ecosystem which provides users with a 360° wellness experience. The device bears the FDA approval and CE mark as proved compliant with United States and European medical device regulations. It is available today exclusively on the Withings Web Store for $129.95 and will later be sold in other retail channels.