Radio Facts: Radio Facts: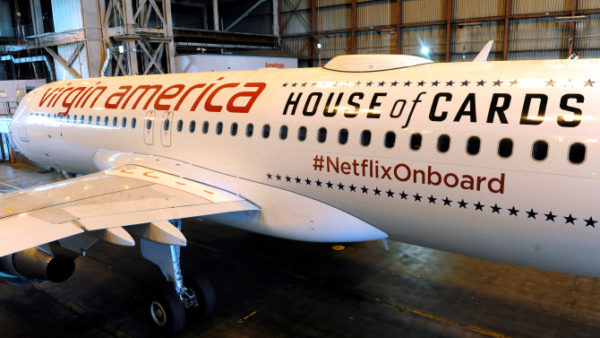 If you have ever taken a flight on Virgin America then you already know it's like flying inside a lounge and/or club. Now to make things even more sexy, Netflix and Virgin America announced they are joining forces to provide complimentary in-flight WiFi access that allows new and existing Netflix members to enjoy the entire Netflix catalog of films and award-winning shows. Beginning today, Netflix users onboard Virgin America's new ViaSat WiFi-equipped aircraft will be able to stream the best programming available in the skies, including the hit series House of Cards and Orange Is The New Black, to their phones, tablets, and laptops at no cost through March 2, 2016*. The experience is made possible by Virgin America's recent connectivity partnership with ViaSat, which brings significantly faster WiFi to the airline's 10 new airbus A320 aircraft being delivered from fall 2015 to mid-2016. In addition to offering free streaming through its new ViaSat WiFi network, as of next month, Virgin America will also offer House of Cards seasons 1-3 for free on the airline's recently upgraded Red® touch-screen seatback in-flight entertainment platform – so travelers can binge-watch through their own devices or their seatback.
Virgin America and Netflix kick off their #NetflixOnboard partnership with the surprise unveiling of a House of Cards and Netflix-branded aircraft and an appearance by Michael Kelly, the Emmy-nominated star of the Netflix original series House of Cards. Kelly's character Doug Stamper, who serves as President Frank Underwood's loyal consultant and Machiavellian fixer, will drop in on Virgin America Flight 1 from San Francisco International Airport (SFO) to Washington Reagan National Airport (DCA). Guests onboard the flight will be able to binge-watch Netflix content in Virgin America's mood-lit cabin and will be treated to a signature Whiskey Whistleblower cocktail, while Kelly – as Doug Stamper – dispenses some tongue-in-cheek, morally-ambiguous political advice over the aircraft's intercom before take-off.