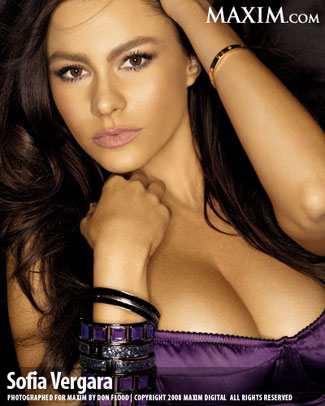 Sofia Vergara Claims the Title of The Most Desirable Woman of 2012
According To AskMen's 11th Annual Poll
Vote Confirms that TV Stars are Among the Sexiest Women
***
Unconventional Beauty is Desirable in 2012 –
Lady Gaga, Rooney Mara, Katy Perry Voted to the List
Los Angeles, Calif. (January 31, 2012)""After more than 1 million votes were cast internationally, AskMen's 11th Annual "Top 99 Most Desirable Women" list today revealed Modern Family's sultry Sofia Vergara as the No. 1 woman on the list. AskMen readers also desire women with an edge, voting super stars with unconventional beauty to the list including Lady Gaga, Rooney Mara and Nicki Minaj.
Since its inaugural year in 2001, the "Top 99 Most Desirable Women" has served as a snapshot of which female stars AskMen readers favor the most based upon the attributes that men want in a companion, such as intelligence, talent, character, and beauty.
Leading lady Sofia Vergara commented: "I am so honored to be AskMen's most desired woman this year. A big thank you to all the men who desire me."
For the second year in a row, television actresses dominated the list, with 22 TV stars claiming spots. Last year's #1 vote went to Gossip Girl, Blake Lively, who held strong at #32 in 2012. Other TV stars include: Kim Kardashian (Keeping Up with the Kardashians; Kourtney and Kim Take New York); Zooey Deschanel (New Girl); Lea Michele and Dianna Agron (Glee); Nicole Scherzinger (The X Factor); Jennifer Lopez (American Idol) and Kat Dennings (2 Broke Girls).
This year's list also highlights a new generation of leading women, such as superstar vocalist Adele, Tennis Star Caroline Wozniacki and George Clooney's girlfriend, Stacy Keibler. Also among the 39 newcomers on this year's list is Pippa Middleton, who just made the cut at No. 98. (AskMen readers much preferred her sister, Kate, who ranked No. 11.)
Pages: First |1 | 2 | 3 | ... | Next → | Last | Single Page