Radio Facts: Radio Facts: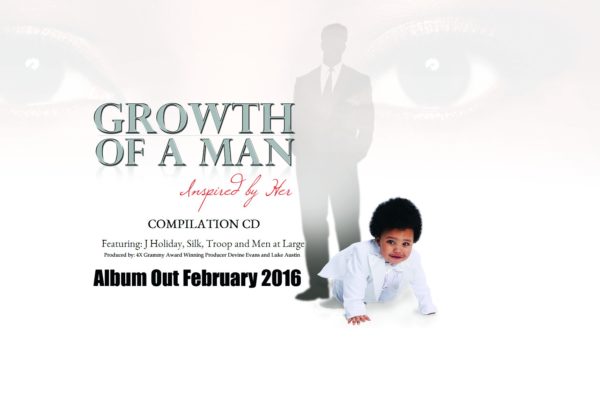 Donna Jones, CEO & Founder, Andern Educational Research, Inc. (AER) is proud to announce a partnership with Andern Records on its CD Release of "A Growth Of A Man: Inspired by Her" featuring groups from the 90's Silk, Troop and Men At Large and 2000's J Holiday, to make a hit CD that will benefit student education.
"A Growth Of A Man: Inspired by Her" is a compilation CD of 13 inspiring songs about women, that depicts the growth of a man through the woman's eyes. The theme of this project is to inspire and uplift the spirits of women around the world.
The first song to be released is J Holiday's "Hearts for You" in January 2016.
Jones expresses, "Andern Educational Research, Inc is delighted to back and support a compilation of this caliber and was fortunate to have worked with the most incredible team of producers and writers lead by Grammy Award winning producer Devine Evans of The Senate Group and Luke Austin aka "Lucrative". Jones continues, "This creative team came together bringing out the best of the artists from the 90's featuring Silk, Troop, Men at Large, and our 2000's artist J Holiday. "
Everyone who participated in the making of the project donated their Time, Treasure and Talents for the students in an effort to create pathways to and through college and to raise scholarship funding for the students to attend private high schools.
One hundred percent of the net sales from this CD will benefit AER's GEMs program which seeks to find, advocate and support highly motivated and qualified students of color from South Los Angeles, Watts, Inglewood, and Compton. Through outreach in these communities, GEMs identifies and brings awareness to the educational opportunities available to these students. GEM serves as a resource to our Partner Schools while providing educational and/or financial support.
Five Music videos will accompany the songs that will be released, so get ready for some soul stirring music that will put a smile on your face and touch your heart.