Radio Facts: Radio Facts: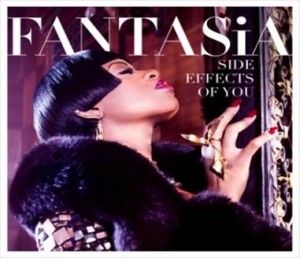 Grammy Award winner Fantasia will release her fourth studio album, Side Effects Of You, on April 23rd on 19 Recordings/RCA Records.
"˜Side Effects Of You' reflects a body of work that I call "˜Rock Soul,' where I'm exploring a new and refreshing sound that reflects my vocal versatility and appreciation for international appeal," says Fantasia. "I wrote a great deal of the new songs alongside some great producers and songwriters and 19/RCA has allowed me to artistically express myself the way I've wanted to for years. I hope everyone will enjoy this project and experience the ROCK SOUL NATION AND JOIN THE MOVEMENT!"
Album Producer Harmony Samuels wrote and produced the majority of the songs with the exception of the album title track, "Side Effects of You," which was produced by Naughty Boy. Fantasia also takes pen to pad as a songwriter on the majority of the tracks along with Andrea Martin, Emeli Sandé, Sherrod Lambert, Missy Elliott and Courtney Harrell to name a few. The album features guest appearances by Missy Elliott, Kelly Rowland and more.
In 2004, the High Point, North Carolina native became the season three winner of Fox's American Idol. Later that year, Fantasia released her platinum-selling debut album Free Yourself and became the first artist in the history of the Billboard Hot 100 chart to debut at #1 with her first single, "I Believe." Fantasia's second single, "Truth Is," spent 14 weeks at #1, making her the first singer to simultaneously have two of the top three songs on the Billboard chart. Fantasia's 2006 eponymous second album featured the #1 R&B single, "When I See U," and reached gold status. In 2010, Fantasia released the critically acclaimed Back To Me, which featured the hit single "Bittersweet" that earned her first ever Grammy Award for Best Female R&B Vocal Performance and a NAACP Image Award for Outstanding Song. Back To Me debuted at #1 on the Billboard R&B Albums chart and #2 on Billboard's Top 200 Albums chart, and marked Fantasia's first #1 R&B album and her highest Billboard Top 200 chart ranking.
Side Effects Of You track listing:
01 Supernatural
02 Ain't All Bad
03 If I Was A Bird
04 Girl Talk (Interlude)
05 Without Me featuring Kelly Rowland & Missy Elliott
06 Side Effects Of You
07 Get It Right
08 So Much To Prove
09 Change Your Mind
10 Lighthouse
11 Lose To Win
12 End Of Me
13 In Deep