Dream Label Group/Capital Christian Records Gospel has signed recording artist Pastor Michael Portley & Students of David. The Kansas City native, husband and proud father of one is a kingdom enthusiast and unapologetic gospeltarian.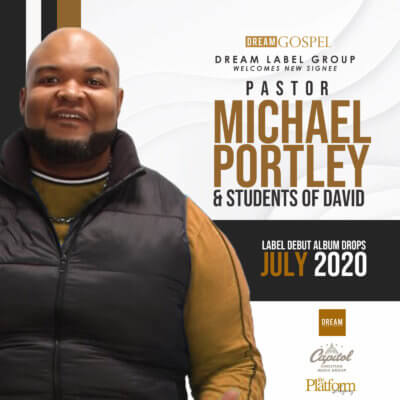 Pastor Portley is a musician by gifting, author of song by inheritance, and a carrier of the word by divine ordinationand impartation. His musical talents have been presented and sung as far as Japan. Pastor Michael Portley & Students of David's official label debut album is set to drop July 2020.
His great song writing ability was displayed in several ways & it was his time to display his own music to the nation. We are excited to be apart of Pastor Portley's musical journey. ~ DREAM LABEL GROUP
WHO IS PASTOR MICHAEL PORTLEY:
Michael Portley Jr. was welcomed to the earth on a cold snowy day in November. As a child, it was known that the call of music ministry as well as the priesthood was on his life. As a proud father of one, a husband for nearly twenty years, Pastor Michael Portley is a Kingdom enthusiast and an unapologetic gospeltarian. Many souls have been transformed and added to the kingdom through his music ministry. Portley holds an earned Associate of Arts degree from Kansas City Kansas Community College. He also holds a Bachelors of Arts-Management Human Relations(MHR) from Mid America Nazarene University, Olathe KC.
Pastor Portley is a musician by gifting, a minister and author of song by inheritance, and a carrier of the Word by divine ordination and impartation. He is often described as cutting edge, a risk taker for righteousness, anointed, spiritually and philosophically astute in the academia of the word. His musical tapestry is identified as creative, peculiar, yet universal. The lyrical and rhythmic grooves motivate the human soul and invites a jovial experience at it sounds. Pastor Portley released his first musical single in 2012.
Shortly after he recorded and released his freshman album "The Roof is in Fiyah" in 2015. In 2016 Pastor Portley recorded with the GMWA national Mass
Choir Division. He and his group "Students of David" appeared on the Word Network in 2017 on the "Rejoice in the Word" with Bishop George Bloomer. Later that year he was nominated and was named recipient of the Steeple Award for Best Duo/Group of the year. In 2018 Pastor Portley was consecrated as regional Overseer of the MICA Midwest region, a fellowship founded by the late Apostle Richard D Henton. He has also written music for Tyscott Recording Artist as well as a Sunday Best B.E.T gospel artist. He recently released his new single "It Still Works" featuring Bishop Mark Tolbert in 2019.