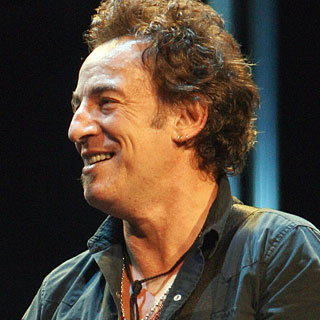 2013 MUSICARES ® PERSON OF THE YEAR TRIBUTE
IN HONOR OF BRUCE SPRINGSTEEN TO FEATURE HOST JON STEWART AND PERFORMANCES BY ALABAMA SHAKES, JACKSON BROWNE, KENNY CHESNEY, Ben Harper, EMMYLOU HARRIS, Faith Hill, Jim James, ELTON JOHN, juanes, JOHN LEGEND, NATALIE MAINES, TIM MCGRAW,
TOM MORELLO, MUMFORD & SONS, PATTI SMITH, mavis staples, STING, Eddie Vedder, AND Neil Young
Sold-Out Tribute Will Benefit
MusiCares' Emergency Financial Assistance And Addiction Recovery Programs
WHO:                         Performances by Alabama Shakes, Jackson Browne, Kenny Chesney, Ben Harper, Emmylou Harris,
Faith Hill, Jim James, Elton John, Juanes, John Legend, Natalie Maines, Tim McGraw, Tom Morello, Mumford & Sons, Patti Smith, Mavis Staples, Sting, Eddie Vedder, and Neil Young. Jon Stewart will be the evening's host. Attendees will include Neil Portnow, President/CEO of MusiCares ® and The Recording Academy ®; Scott Pascucci, MusiCares Foundation Board Chair; and Paul Caine, MusiCares Board Chair Emeritus. In addition, a host of celebrities, along with prominent music industry and entertainment executives, are scheduled to attend. Rob Mathes will be the evening's musical director. Past MusiCares Person of the Year honorees include, Tony Bennett, Bono, Natalie Cole, Phil Collins, David Crosby, Neil Diamond, Gloria Estefan, Aretha Franklin, Don Henley, Billy Joel, Elton John, Quincy Jones, Paul McCartney, Luciano Pavarotti, Bonnie Raitt, Paul Simon, Sting, Barbra Streisand, James Taylor, Brian Wilson, Stevie Wonder, and Neil Young.
WHAT:                     Bruce Springsteen will be honored as the 2013 MusiCares Person of the Year at a special event celebrating his
exceptional artistic achievements as well as his philanthropic work. Proceeds from the annual Person of the Year tribute "" now in its 23rd year "" provide essential support for MusiCares, which ensures that music people have a place to turn in times of financial, medical, and personal need.
GALA:                       The 2013 MusiCares Person of the Year gala will begin with a cocktail reception and silent auction, sponsored by the Starkey Hearing Foundation, that will offer an exclusive and unparalleled selection of luxury items, VIP experiences, and one-of-a-kind celebrity memorabilia for bidding guests. The auction will be followed by a gala dinner sponsored by AEG, and a star-studded tribute concert sponsored by Acura/ELS Studio. Acura RLX is the MusiCares "Vehicle of the Year." During the gala dinner, a live auction will feature an exciting array of items, including a customized Acura RLX. This year's red-carpet press arrivals area will be sponsored by Galactica Park. MusiCares would also like to thank CenterStaging, Delta Air Lines, Double Platinum, Gibson, Global Art, Heineken USA, Hilton Hotels & Resorts, Jackson Limo, Pepsi, Sweetwater, and Trattore Estate Wines.
GALA:                       MusiCares Person of the Year tribute is one of the most prestigious events held during GRAMMY Week. The celebration culminates with the 55th Annual GRAMMY Awards ® on Sunday, Feb. 10 at STAPLES Center in Los Angeles. The telecast will be broadcast live on the CBS Television Network at 8 p.m. ET/PT. This MusiCares gala event is completely sold out.
WHY:                         The MusiCares Foundationoffers programs and services to members of the music community   including emergency financial assistance for basic living expenses such as rent, utilities and car payments; medical expenses including doctor, dentist and hospital bills; psychotherapy; and treatment for HIV/AIDS, Parkinson's disease, Alzheimer's disease, hepatitis C, and other critical illnesses. MusiCares offers nationwide educational workshops covering a variety of subjects, including financial, legal, medical, and substance abuse issues, and programs in collaboration with healthcare professionals that provide services such as flu shots, hearing tests, and medical/dental screenings. The MusiCares MAP Fund ® allows access to addiction recovery treatment and sober living resources for members of the music community. Staffed by qualified chemical dependency and intervention specialists, MusiCares Safe Harbor Rooms, supported by the Bohemian Foundation, offer a support network to those in recovery while they are participating in the production of televised music shows and other major music events. MusiCares holds weekly addiction support groups for people to discuss how to best cope with the issues surrounding the recovery process. The MusiCares Sober Touring Network is a database of individuals across the United States who can take music people to recovery support meetings while on the road.