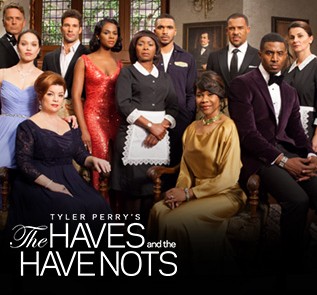 THE HAVES AND THE HAVE-NOTS (Tuesdays from 9-10 p. m. beginning May 28)

From prolific writer, director, producer Tyler Perry, "The Haves and the Have Nots" follows the complicated dynamic between the rich and powerful Cryer family and the hired help who work in their opulent mansion set in Savannah, Georgia.
From the outside, the Cryer's are the enviable face of success and wealth, but behind the veil, the family's dysfunction threatens to destroy their world of privilege. Cryer family patriarch Jim Cryer (John Schneider, "Dukes of Hazzard") is a powerful judge whose double-life, including tawdry affairs with high-priced escorts, puts his family and political ambitions at risk.
His wife, Katheryn Cryer (Renée Lawless, "Wicked"), is the ultimate matriarch portraying a loving and dutiful wife, but she is willing to do anything to protect her family's status. Their son Wyatt (Aaron O'Connell) is a troubled angry Radio DJ who cares little for his own image and finds himself in and out of rehab. His sister Amanda (Jacyln Betham), a struggling law student, tries harder to live up to her parents' expectations, but unknowingly has befriended a scurrilous young woman, Candace Young, with the power to ruin the entire family.
Hanna Young (Crystal Fox) is the Cryer's maid and the matriarch of her family. Despite having no money, she has found other types of wealth through religion and virtue. She prides herself on her dutiful son Benny (Tyler Lepley), the glue who helps keep the family together.
Hanna does have one dark secret, however, her estranged daughter Candace (Tika Sumpter, "Gossip Girl") — a manipulative opportunist who will stop at nothing to get what she wants. In a bizarre coincidence, Candace is shocked to find out that her newfound friend Amanda's father is Jim Cryer, the very man who has been paying her for sex and who also employs Candace's mother as his family's maid. Armed with this knowledge, the dramatic stage is set for what will be, in Candace's eyes, the opportunity of a lifetime.
Other characters in the series include the Cryer's chef Celine (Eva Tamargo, "Passions"), their wealthy friends Veronica (Angela Robinson) and David Harrington (Peter Parros) and son Wyatt's rehabilitation counselor, Jeffery Harrington (Gavin Houston). "The Haves and the Have Nots" is produced for OWN by Tyler Perry Studios. It is created, written, directed and executive produced by Tyler Perry.
Join the conversation on Twitter using #HavesandHaveNots and visit the show online atwww. oprah. com/havesandhavenots (FOR MORE TYLER PERRY AND OWN NEWS CLICK NEXT) LOVE THY NEIGHBOR(Wednesdays from 9-10 p.m. beginning May 29;two back-to-back half-hour episodes) Written, directed and produced by Tyler Perry, "Love Thy Neighbor" is a half-hour comedy set at The Love Train Diner a family run restaurant where every day the menu serves up good food, great laughs, valuable life lessons and a whole lot of love.
Diner owner and feisty family matriarch Hattie Mae Love (Patrice Lovely, "A Madea Christmas") has her hands full not only managing her customers but her family drama, too. Her daughter Linda (Kendra C. Johnson, "Phat Girlz") splits her time between Hattie's home and the apartment she shares with her philandering husband.
Linda's son Danny (Andre Hall, "Goodbye LA"), a recent college grad, moves into a bachelor pad with his best friend Sam (Jonathan Chase, "Chemistry") and lands a job at a hot internet design firm. He quickly establishes himself as a rising star. . . that's when he's not distracted by Sam's hard- partying ways and their beautiful co-workers Marianna (Zulay Henao, "The Fighter") and Drew (Darmirra Brunson, "Sunset Junction").
Meanwhile, Uncle Floyd (Palmer Williams, "House of Payne") is an ever-present thorn in the Love family's side.
Like old luggage, they can never seem to get rid of him. "Love Thy Neighbor" is produced for OWN by Tyler Perry Studios. It is created, written, directed and executive produced by Tyler Perry.
Join the conversation on Twitter using #LoveThyNeighbor and visit the show online at www.oprah.com/lovethyneighbor