Radio Facts:
AVAILABLE ON THURSDAY, MAY 14TH AT 6PM EST 
RadioFacts: The Roots announce the third installment of their The Roots Jam Presents Solo Sessions including performances with Kassa Overall, Emily Wells, and SassyBlack available on Thursday, May 14th at 6 pm EST. This series is part of the custom content being delivered to fans during this time via The Roots YouTube Channel. All content is created by The Roots and produced by their production company, Two One Five Entertainment, in partnership with Live Nation Urban and available HERE.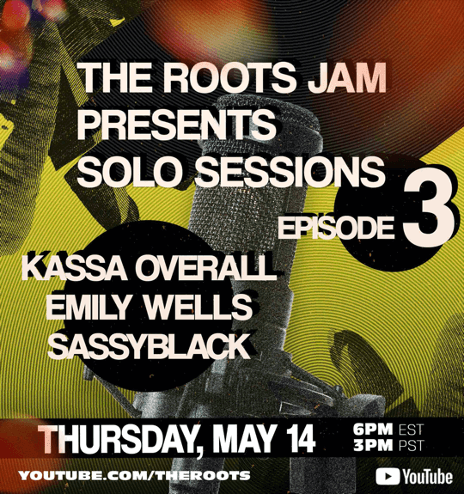 The Roots Jam Presents Solo Sessions is a new artist performance series highlighting emerging talent. In the spirit of the legendary Roots Jam Sessions, the band is opening up its platform to feature one song performances from music artists that are handpicked and curated by the band; artists that The Roots feel you should know. The pillars for The Roots Jam sessions are creativity and discovery and it is these same tenants that fueled the creation of Solo Sessions. Click HERE to view episode 2.
Each day, the lineup of content is anchored by Questlove's impactful live DJ sets which have put a new spin on DJing during this time and have a charitable component where donations are being made to The Food Hub NYC. Initially, they will be developing content around The Roots members and it will vary from short-form storytelling to live conversations, as well as performances and podcasts. This will be followed in the coming weeks by content featuring other influential artists, authors, and creatives.