Sony Music Publishing Nashville today announced the signing of breakthrough singer-songwriter Madeline Edwards to a worldwide publishing agreement. The news coincides with Edwards' first official dates opening for Chris Stapleton's All American Road Show Tour, including Saturday's (4/23) stop in Lexington, KY.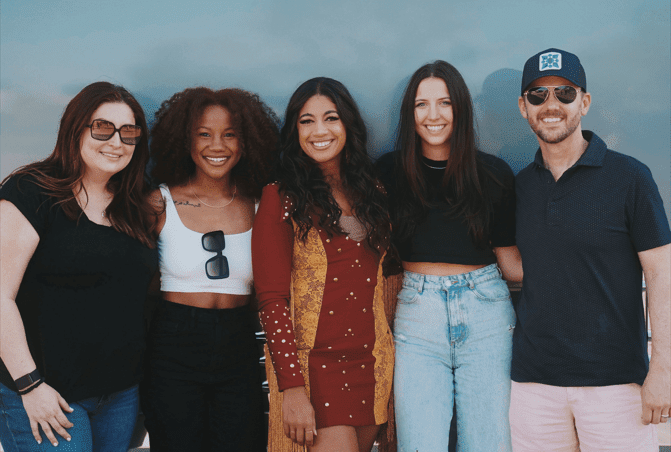 California born, Texas raised singer-songwriter Madeline Edwards has quickly caught the attention of the industry, incorporating jazz, soul, gospel and country influences into her unique sound. She was listed as a "Hot Country Spotify Artist to Watch 2022," a CMT "Next Women of Country" class of 2022 and was named a Top 20 Breaker artist on NPR. Currently working on her debut album, Edwards made her national radio debut on Sirius XM and released "Port City," as the follow up to her hit song "The Road," which has garnered over 6 million streams to date. She has performed on Lady Gaga's Born This Way tribute record with The Highwomen, NPR's Tiny Desk Concert, and made her national television debut at the 2021 CMA Awards, where she sang alongside Mickey Guyton and Brittney Spencer.
This week Edwards embarked on the All American Road Show Tour alongside one of her musical heroes Chris Stapleton. Featuring Sheryl Crow, Willie Nelson and headliner Chris Stapleton, their April 23 tour stop in Lexington, KY marked Edwards' first stadium show, with the Lexington Herald Leader raving:
"Edwards brought an infectious energy and genre-melding sound at the crossroads of country, R&B and soul to the stage in the midst of her first tour ever. The highlight of her half hour performance came during "Port City," a harrowing ballad of independence and self-discovery encapsulated in the lyric "and if I don't sink now I may never learn to swim," good words of encouragement for anyone with a dream that needs chasing such as her."
Sony Music Publishing Nashville CEO Rusty Gaston said, "True artists like Madeline don't come along every day. It was obvious from our first meeting that she has a gift of revealing her heart in each song. We can't wait for the world to discover what we've already gotten to experience."
Senior Manager, Creative Mya Hansen and Creative Coordinator Synnovea Halsel said, "We knew from the moment we saw Madeline play that she is an extraordinary talent with limitless potential. We are thrilled to welcome her into the Sony Music Publishing family!"
"I knew SMP was the right family for me the moment we connected. I'm very excited for this new chapter and the music I'll be creating with this team," added Edwards.