Digital and Radio Facts: Radio Facts: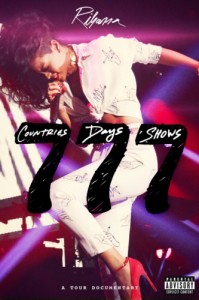 As Roc Nation global superstar Rihanna's current single "Stay" (featuring Mikky Ekko) from her worldwide 2 million-selling #1 album, Unapologetic , moves into its 10th Top 10 week on the Billboard Hot 100 and she makes history for becoming the first artist ever to garner ten number one songs on Billboard's Nielsen BDS-based Pop Songs radio airplay chart, the stage is set for the May 7 th release of the RIHANNA 777 TOUR live documentary concert ON DVD featuring 77 minutes of raw and uncut material. On May 6 th, at 8:00 p.m. (ET), the night before the release, FOX TV will premiere an edited (44 minute) version of the film.
Rihanna made history in November 2012, when she took a group of 256 international journalists (representing 82 countries) and die-hard fans, aboard a chartered Boeing 777 twinjet to 7 countries in 7 days for 7 shows, flying toward the release of her 7th album Unapologetic on November 19 th. RIHANNA 777 TOUR is a chronicle of those shows that took place in Mexico City, Toronto, Stockholm, Paris, Berlin, London, and New York City.
RIHANNA 777 will include performances of Unapologetic 's hits, "Diamonds" and "Stay," plus crowd favorites "Fresh Off the Runway," "We Found Love," "S&M," and much more. As always, the production, costumes and stage design which Rihanna's fans have come to expect, all come through in a larger-than-life video and audio experience. The tour was documented by a film crew and offers fans stellar performances of Rihanna's greatest hits in glamorous locales. The film provides an inside look at this ambitious and often turbulent tour, from the sound of popping champagne corks on the plane to all the backstage chaos, and behind-the-scenes action of life on the road with Rihanna. RIHANNA 777 TOUR is a Fenty Films production in conjunction with Love Live, Roc Nation and Gravite Creative.
RIHANNA 777 TOUR is her third official long-form video concert. It follows up Loud Tour Live At The O2 (released December 2012), a chronicle of her sold-out show at the legendary London venue, the climactic final stop of her 2011 world tour. Rihanna's first long-form Blue-ray and DVD was Good Girl Gone Bad: Live (released June 2008), recorded at her triumphant UK concert at Manchester Arena in December 2007, during her "Good Girl Gone Bad" tour.
"Stay," Rihanna's 17th Top 5 Hot 100 single, is the explosive follow-up to her RIAA platinum "Diamonds," a #1 gold, platinum and multi-platinum smash worldwide, and her 12th Hot 100 #1 hit. The success of "Diamonds" propelled Unapologetic to a #1 debut on the Billboard 200 Albums chart in November, the first #1 Soundscan album of Rihanna's career.
Prior to "Diamonds," Rihanna's #1 Hot 100 hit list comprised: "S.O.S." (her first #1, from her second album, A Girl Like Me , 2006); the Grammy Award ®-winning "Umbrella" (featuring Jay-Z), "Take A Bow," and "Disturbia" (all three from Good Girl Gone Bad , 2007); "Live Your Life" with T.I. (2008); "Rude Boy" (from Rated R , 2009); "Love the Way You Lie" with Eminem (2010); the Grammy Award ®-winning "Only Girl (In the World)," "What's My Name" (featuring Drake), and "S&M" (all three from Loud , 2010); and the [Video] Grammy Award ®-winning "We Found Love" (featuring Calvin Harris, from Talk that Talk , 2011).