Radio Facts: Radio Facts: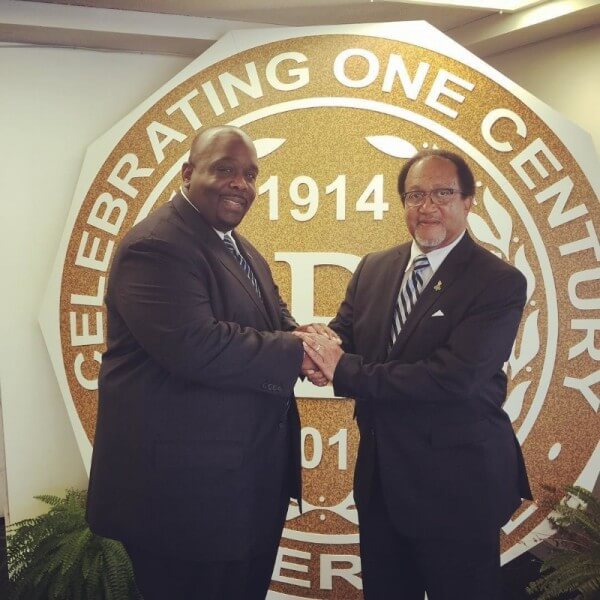 Back in the days on the yard I remember when fraternities used to go at each other. For the most part it was all fun and games but when it came down to impacting the community, there was always unity amongst the frats and sororities. It didn't matter if you were an Alpha, Que, Sigma, Kappa, or whatever, the community came first. The Sigmas played a huge
role
in the fist Million Man March and now on the 20th anniversary of the movement, they are back at it.
In a move symbolic of its commitment of service to humanity, Phi Beta Sigma Fraternity, Inc. (PBS) International President, Jonathan A. Mason, Sr. turned over the
keys
to office space in the community service organization's headquarters to Dr. Benjamin F. Chavis to serve as the
National Mobilization Headquarters
for the 20th
Anniversary Million Man March
. In 1995, Phi Beta Sigma Fraternity, Inc.'s international corporate offices served as the official headquarters for the inaugural Million Man March. Twenty years later, Dr. Chavis, a member of Phi Beta Sigma, is proudly returning to 145 Kennedy Street, NW, Washington D.C. (PBS Headquarters) to assist with organizing the historic gathering. Scheduled to take place on Saturday, October 10, 2015, "Justice or Else!" The 20th
Anniversary Million Man March
will focus on "justice" for individuals of every ethnic background.
"We are once again proud to announce our commitment to the Million Man March. Twenty years ago, Phi Beta Sigma Fraternity, Inc. stepped forward and offered our headquarters as the staging location for the historic march," said Jonathan A. Mason, Sr. "Today, we celebrate the march's milestones and reinforce our 'I Am My Brother's Keeper' initiative, as we wholeheartedly support the Million Man March 20 years later," Mason enthusiastically added.
Since celebrating its centennial in January 2014, Phi Beta Sigma Fraternity, Inc. has paid homage to its founders by leading the charge on several national issues. The service based fraternity has been a leader in eradicating hazing among fraternities and sororities; participated in the National Day of Protest in wake of the suspicious killings of young African American males; hosted a Prayer Vigil and Youth Summit in Ferguson, Missouri in response to the
Michael Brown
killing; issued a
statement
supporting racial tolerance in the aftermath of the senseless killing of nine congregants at Emanuel AME Church in Charlestown, South Carolina and hosted REAL TALK, a panel discussion which featured some of the nation's top thought-leaders on the topic of securing the future for the next generation of boys and men of color.
Phi Beta Sigma Fraternity, Inc.
members
from across the nation will journey to Washington, DC on October 10th to stand together in support of equal justice for all people.