Effective immediately, Reach Media is pleased to announce Shari' Nycole as the new co-host on the nationally syndicated, Willie Moore Jr. Show.  She replaces Krystal Lee who departed the show, December 2020 and picked up mid-days on WPZE-FM Radio One Atlanta.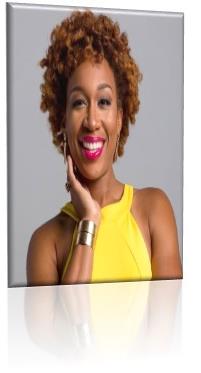 As co-host, Shari' Nycole will provide another voice and perspective to the show and will host "Top 3 with Shari" along with other features and benchmarks coming soon.
Shari' Nycole is a consummate media pro in that she has had various stints that have led her to this opportunity. Her previous correspondence work at a variety of red carpet events include the NAACP Image Awards, the Trumpet Awards, Essence Festivals, the McDonalds 365Black Awards, The Triumph Awards and The Stellar Awards.
In May 2017, Sharí Nycole transitioned into a segment producer, field producer and editor on the breakout talk show, "Sister Circle Live," on TV One. While at "Sister Circle Live," she produced segments featuring varied celebrities, lifestyle experts, political powerhouses and sports figures.
While juggling her duties with "Sister Circle Live," she took on a co-executive producer position on Will Packer Media's new live Twitter series, "Power Star Live," leading a passionate crew and curating content pertinent to the Black Twitter experience. Sharí Nycole ended her run with "Power Star Live" in April 2019 and "Sister Circle Live" in April 2020. Since then, she's executive produced and co-edited "The Making Of A Woman" documentary on Fox Soul, launched a successful podcast, "Just A Thought w/ Sharí Nycole," and began hosting a weekly radio show on Philly's Favor 100.7FM called, "The Gray Area."
Shari' Nycole believes every story should cater to the needs and wants of the audience and provide them with information pertinent to how they can remain informed and entertained. She prides herself on telling the truth beautifully in a way that's bold but not abrasive and having the courage to confront the uncomfortable.
Her vast background and talent will be an added bonus to the already empowering and motivating show.