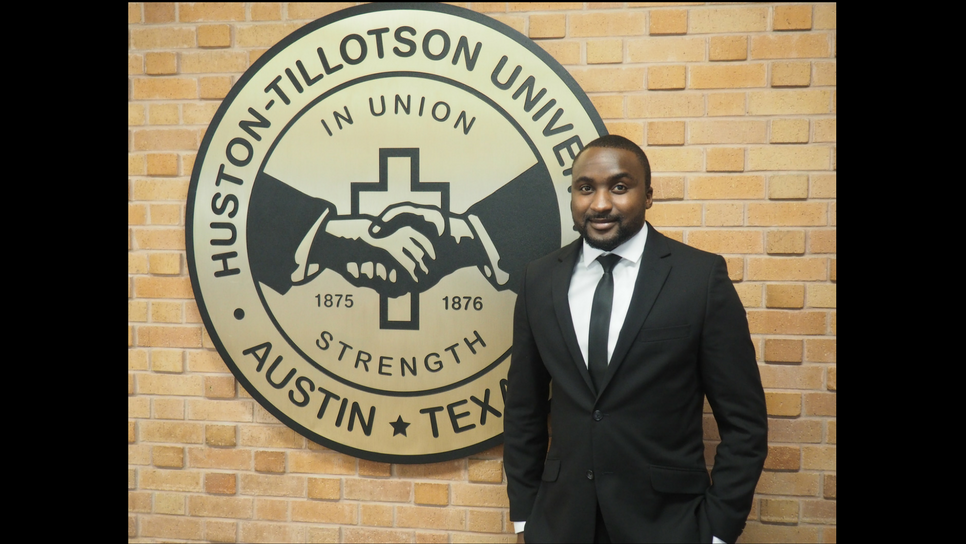 (AUSTIN, TX) 4.27.17 – Inspired by the hyperinflation caused by poor economic policies and business strategies in his home country of Zimbabwe, Africa, a Huston-Tillotson University scholar has begun developing operational and strategic plans to improve global economies.
Mr. Barney Mutumha is one of eight HBCU scholars who recently presented their research to members of an educational scholarship committee based in Princeton, New Jersey. The group, Educational Testing Service, provides HBCU (Historically Black Colleges and Universities) students with merit-based, full-tuition scholarships called ETS Presidential Scholarships.
Mutumha is the recipient of an ETS Scholarship and will graduate from Huston-Tillotson University on May 6, 2017.
"Barney made an outstanding presentation … which was very well received. It was vry clear from the depth of knowledge and the skill at presenting his subject that Barney has received an excellent education at Huston-Tillotson," Walt MacDonald, ETS President and CEO, wrote in a letter to Huston-Tillotson University President & CEO, Dr. Colette Pierce Burnette.
Mutumha's presentation entitled Base Erosion and Profit-Shifting (BEPS): Implications for Developing Countries, focused on the extent of tax avoidance by multinational enterprises, in countries that are heavily reliant on corporate income tax. The presentation aimed at discussing the level of engagement by developing countries in the international tax agenda.
"What an honor, what a feat, what a feather in your cap!" Huston-Tillotson University President & CEO Dr. Colette Pierce Burnette said. "I am beyond proud to be your President and thank you for making your alma mater proud, and for being a beacon of the power of a liberal arts education at a small minority serving institution in Austin, Texas."
In 2018, Mutumha will start a full-time position with Ernst & Young LLP, a global leader in assurance, tax, transaction and advisory services.