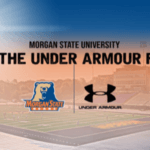 Department-wide deal connects Bears with global leader in athletic performance and innovation
BALTIMORE, Md. (October 26, 2020) – Morgan State University has announced a multi-year, multimillion-dollar uniform and apparel partnership with international athletic outfitter Under Armour, naming the global performance brand as the official outfitter for the Morgan State Athletic Department and its teams, starting in 2020.
The agreement with Under Armour will allow Morgan State to provide Under Armour uniforms, apparel, gear and equipment for its complete roster of student-athletes, coaches, athletic department personnel and the campus community. It's a tremendous opportunity for the Bears to be associated with an award-winning brand headquartered in Baltimore and further illustrates Morgan's continued commitment to excellence—on and off the field.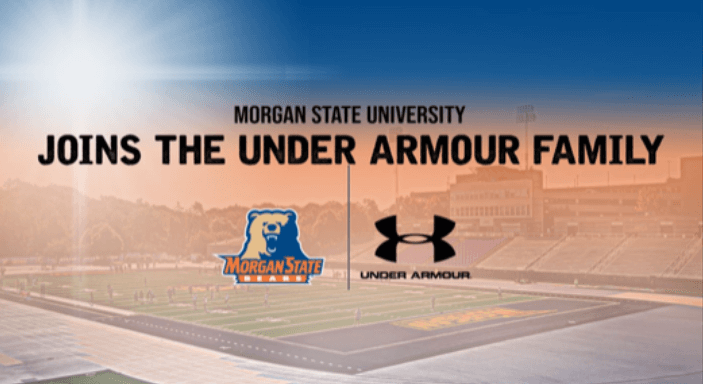 "Morgan State is excited to begin our new partnership with Under Armour as we look to provide our student-athletes the best possible resources to excel on the national stage," said MSU Athletic Director Edward Scott, Ph.D.  "As Maryland's Preeminent Public Urban Research University, this newly formed partnership between Morgan and Under Armour makes perfect sense for the City of Baltimore, Morgan State University and Under Armour.  As we went through our process it became clear that Under Armour is uniquely positioned to tell our story and to help grow the brand of Morgan Athletics."
The uniform and apparel agreement with Under Armour will last for five-years, and the affiliation will debut with the first game of the season in men's and women's basketball on November 25, 2020.
In signing this deal, Morgan State joins the standout Under Armour roster of NCAA partners that includes the University of Maryland; University of Wisconsin; University of Notre Dame; Northwestern University and University of South Carolina.
###
About Under Armour, Inc.
Under Armour (NYSE: UA), the originator of performance footwear, apparel and equipment, revolutionized how athletes across the world dress. Designed to make athletes better, the brand's innovative products are sold worldwide to athletes at all levels, and is headquartered in Baltimore, Maryland. For further information, please visit the Company's website at www.uabiz.com.
About Morgan
Morgan State University, founded in 1867, is a Carnegie-classified doctoral research institution offering more than 126 academic programs leading to degrees from the baccalaureate to the doctorate. As Maryland's Preeminent Public Urban Research University, Morgan serves a multiethnic and multiracial student body and seeks to ensure that the doors of higher education are opened as wide as possible to as many as possible. For more information about Morgan State University, visit www.morgan.edu.
MEDIA CONTACT(S):
Larry Jones or Dell Jackson, University PR
(443) 885-3022