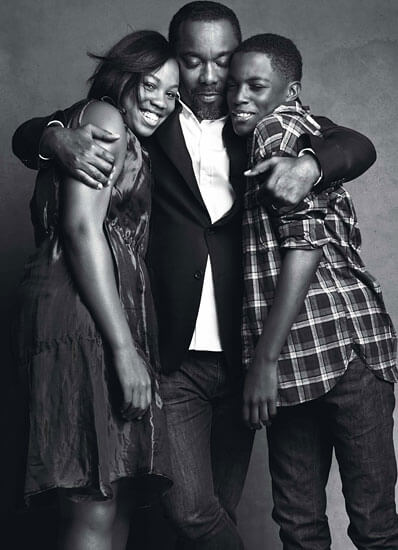 Director Lee Daniels is out to build his own empire as a media mogul moving from the big screen to the small screen with his new Fox drama series "Empire" a television show expertly cast with Terrance Howard as a dying record industry label owner who wants to take his company public while just about everyone around him seeks some kind of revenge and wants to destroy him. Taraji P. Henson is the mother of his 3 sons who is closest to the gay son that Howard's character Lucius has all but abandoned.  She's a caring but streetwise mother who gave up her freedom so that the father of her children could continue building his career as a recording artists and their record label while she spend 17 years in jail for drug trafficking. Of course there have been many other music industry themed shows where the writing was nowhere near as good and most of them have failed or were on pay channels.  There have also been several black owned labels in the industry so the concept is no far-fetched but what is interesting is the show is already done for the entire season and the first three shows have no mention of radio? Is this a complaint? No, radio is the corporate behemoth that is simply split into stations that are the liaison between the listeners and the music… for now and DJs and announcers have no power to make decisions when it comes to airplay and they are merely the connection between listeners and the music so it's easy to see why radio is not written into the show. Radio corporations have finally gotten their wish and they have become the star of the music industry instead of individual stations and depending on which way you look at it, it makes perfect sense. Why shouldn't they be the star of their own brand?
(Director Lee Daniels pictures with his children: Twins Clara and Liam courtesy WMagazine)
This year in Radio Facts (Celebrating 20 years) we will be exploring why Urban radio stations, Radio DJs and programmers do not promote themselves enough, and we are seen more as a pathway than a gateway for artists' success. We understand it's partly because of the stringent corporate guidelines to protect the station's brand (understandable) and another part of it is just being lazy and not seeing the advantage of social networking or pushing ourselves further (we understand the origin of that too). Some corporations DO ask radio Radio DJs and PDs to push what they are doing on line but some of them feel like they already work hard enough for the station and another job working (for free) that they don't have to do is not necessary. Unfortunately, we are not seeing that an online presence is the MOST important aspect of their job. Empire could certainly write a radio PD in but it would probably center on what we are often known for best in movies and TV, being a Slick Willie on the take so perhaps it's a godsend.  Have you ever noticed that?
Daniels is using his platform to also express how homophobic the black community is and the pain that caused by it.