Radio Facts: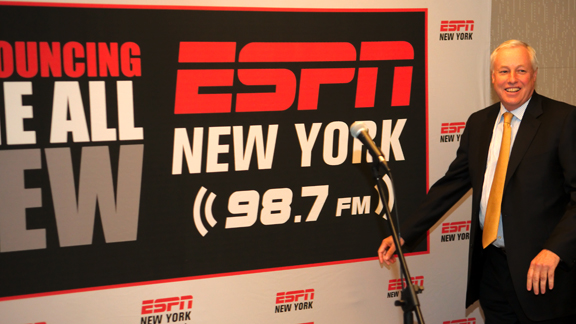 We all saw this coming for the longest time
Emmis Announces Series of Transactions Related to 98.7FM in New York
READ MORE INDUSTRY NEWS
"I have so many friends on the Kiss FM team and this is an extraordinarily difficult decision for me, however the benefits to the financial health of Emmis as a whole are significant. Coupled with the sale of a controlling interest in three of our radio stations to Merlin Media and the forthcoming sale of KXOS in Los Angeles, we will have one of the healthiest balance sheets in media thereby positioning Emmis for future growth," Smulyan said.
Paul, Weiss, Rifkind, Wharton & Garrison LLP and Wiley Rein LLP served as legal counsel and Moelis & Company served as financial advisor to Emmis.
Emmis does not undertake any obligation to publicly update or revise any forward-looking statements because of new information, future events or otherwise.
——-ESPN PRESS RELEASE: NEW YORK — ESPN New York 1050 AM will be broadcast on 98.7 FM beginning at 12:01 a.m. on Monday morning, April 30, the station announced Thursday."This move to the FM dial is in keeping with the industry trend of sports radio shifting and offers an even broader reach for our content," said Dave Roberts, ESPN 1050 New York vice president and general manager. "By combining the FM reach with our wide variety of digital offerings from ESPN Audio, we are uniquely positioned to provide coverage of all of New York's sports."ESPN New York 98.7The all-new ESPN New York 98.7 FM will also be carried on 1050 until September, when the plan is to turn that signal into a 24-hour ESPN Deportes station, coinciding with the beginning of Hispanic Heritage Month (Sept. 15-Oct. 15)."As part of ESPN's continual commitment to serve the U.S. Hispanic sports fan, we are thrilled to provide New York fans with a sports station that offers culturally relevant programming in Spanish," said Freddy Rolon, vice president of ESPN Deportes programming and business initiatives. "The launch of ESPN Deportes Radio will also provide advertisers and marketers a unique opportunity to reach local Hispanics sports fans in this market.""Opportunities like this don't come along too often and it's tremendous that we were able to conclude a deal that will enhance our mission of serving sports fans in not just English but Spanish as well," said Traug Keller, ESPN senior vice president/production, business divisions. "Come fall, Spanish-speaking New Yorkers will have their first 24/7 sports talk radio station."Follow ESPN New York on FacebookESPN New York's regular weekday lineup also will be slightly altered, accompanying the change of frequency. "The Mike Lupica Show" will now be heard from noon to 1 p.m. Monday through Friday, followed by a new show from 1 to 3 p.m., hosted by Stephen A. Smith along with Ryan Ruocco.ESPN Radio national shows "Mike & Mike in the Morning" and "The Herd with Colin Cowherd" will continue to be broadcast in New York, from 6 a.m. to 10 a.m., and 10 a.m. to noon, respectively. "The Michael Kay Show" will air from 3 p.m. to 6 p.m.Weekday evenings from 6 p.m. to 9 p.m. will be handled by Dave Rothenberg.Robin Lundberg will take over hosting duties for the weekend morning shows. Saturday mornings will also feature a new show from 10 a.m. to noon hosted by Patrick McEnroe, who will continue as a tennis commentator for ESPN.
[wpp header='Popular Posts']