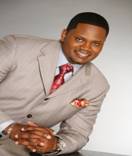 Nationally syndicated personality KD Bowe returns to local radio in Atlanta as the afternoon drive personality on Radio One's Praise 102.5 beginning Monday, October 31st. KD Bowe has been the signature voice for hundreds of brands including stadium announcer for the Atlanta Falcons, Bishop's T.D. Jakes, Paul Morton, The Word Network, Lego, Spalding, Sony, Coca Cola, and now his voice will be heard on the number one inspirational Radio Station in the country, WPZE Praise 102.5.

"We searched all over the country," said Tim Davies, VP/GM, "and when KD raised his hand, we knew we had the best personality possible to continue to grow our brand on air and on line". A veteran in the industry, KD Bowe's highly motivating personality and inspiring radio show has captured the hearts of both the young and the seasoned all across America . With the majority of his career in network radio and syndication, KD has found a way to speak the language of the listener in cities both small and large. He delivers personal insight and on air guests that bring real answers to the issues that affect us both publicly and personally.
His show will include topics such as relationships, family and many new features that will gradually be rolled out. Program Director Derek Harper said, "I feel he is the next step in the evolution of Praise 102.5. He gives us a person able to compete against any personality regardless of format. We will definitely be a player in that daypart in the Atlanta market."
Log on to www.mypraiseatl.com for updated information.