AUSTIN — With preliminary numbers rolling in as the exciting evening came to a close, reality sat in that Huston-Tillotson University's (HT) alumni, friends, and employees had just given students over $707,000.00 in scholarships. This amount makes the "Blues in the Night" Scholarship Gala held at JW Marriott Downtown one of the most successful galas in the history of the school.
On the evening of October 27, over 600 supporters from across Austin and beyond converged on the fourth floor of the hotel's event space to celebrate Huston-Tillotson's mission and success.
President Dr. Colette Pierce Burnette kicked off the evening with a VIP reception where she was able to meet the many sponsors of the Gala and University partners. The night continued to the main ballroom where warm lights of blue filled the room, fitting for "blues in the night." City of Austin's Human Resources Director Joya Hayes, also an HT alumna, and Huston-Tillotson's Recruitment and Admissions Director Jeffrey Pierce opened the evening as co-hosts.
Just after dinner, President Burnette recognized three University partners, HomeAway, Texas Parks and Wildlife, and Merck.
HomeAway provides job shadowing and professional skill-building opportunities to Huston-Tillotson's students. Texas Parks and Wildlife provides students hands-on environmental experiences with wildlife in East Austin, specifically a coyote trapping project to gather information and perform very important research to protect such wildlife. Merck most recently sent a student to Prague to learn about robotic process automation, adding to its partnership to train students on digital health technology. All partners are committed to diversifying its workforce with targeted training based on the organizations' needs.
In addition to the recognition of partners, another surprise for attendees was a testimonial video of students. Students such as Osayuware Igbinadolor spoke about how Huston-Tillotson inspired her to start her own business of hair products and an organization called "Boss Up" that targets at-risk youth in the areas of education, entrepreneurship, and dream chasing. Denise Salinas shared her story as a Hispanic student attending a University that does not treat her as a number or Hispanic but as a person named Denise Salinas. Then, there was David Banks who spoke of his multiple stints as an intern with the top accounting firm, PricewaterhouseCoopers (PwC), and how his impression made upon his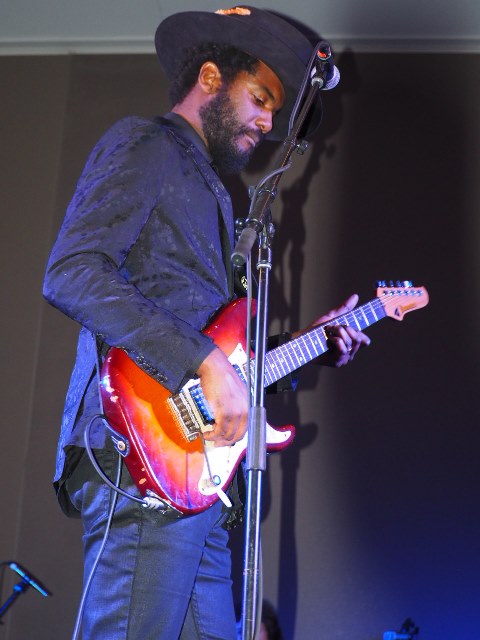 supervisors have him on track for full-time employment with PwC upon graduation. Three more students shared their HT impact stories that moved the audience into a "Fund a Need" segment of the evening.
A dinner with Mayor Steve Adler and wife, Diane T. Land, who also serves as a Huston-Tillotson trustee, a vacation package in Telluride, Colorado, an Austin Night Out package, a private chef, and a Gary Clark, Jr. painting were up for grabs in a lively auction led by local Auctioneer Tiwanna A. Kenney; all were sold.
Then, GRAMMY Award-winning Gary Clark, Jr. "brought the house down" with a performance to remember, including the debut of a song dedicated to his mother.
The Peterson Brothers closed out the evening with some wonderful hits.
President Burnette and the entire Huston-Tillotson University fRAMily greatly appreciate the overwhelming support and look forward to next year's scholarship event.
###