Robert Leroy Johnson was born on the 8th of May 1911. He was an American songwriter, blues guitarist, and singer.
He is known to have had songwriting talents as well as guitar skills that have influenced many generations after him and even earned him the title of a master of the blues (in particular Delta blues). His life was rather short and with a lot of controversies as will be explained below.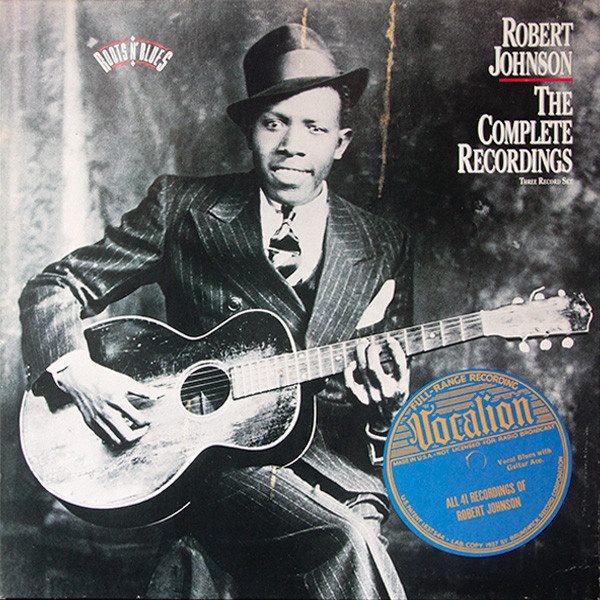 Robert's early life
Robert was born in Mississippi (Hazlehurst) out of wedlock to her mother Julia Major while she was married to Charles Dodd, a landowner who was quite prosperous and even had with him ten children already. The family was forced to leave Hazlehurst after a dispute with the landowners who were white.
Eventually, Julia left Robert to stay with Charles in Memphis where he resided for his early nine years and attended school. It was in Memphis where he learned about popular music as well as blues.
Around 1919, Robert rejoined his mother who had remarried a sharecropper, Will. After Julia informed Robert of his biological father, he began using his surname Johnson, as was seen on his marriage certificate. He got married in 1929 to a sixteen-year-old, Virginia Travis.
His wife died shortly after as she was giving birth. Some believed that the demise was a punishment for Robert as he had decided to go into the secular music industry.
Robert then moved to Robinsonville, the town that Willie Brown (his musical partner) lived. Johnson was mostly remembered as an amazing harmonica player but extremely bad at playing the guitar.
He then left Robinsonville and went towards Martinsville that was close to his place of birth, possibly in pursuit of his biological father. He perfected his skills at playing the guitar here and even learned from Isiah Zimmerman other styles.
Isaiah had rumors surrounding his name that he learned to play the guitar by doing so at graveyards in the middle of the night.
The next time Johnson was seen in Robinsonville, he was a perfect guitarist. While in Martinsville, Johnson got a child with Mae Smith and got married to Caletta Craft (1931) but she died two years later. Johnson had already left to be an itinerant musician by then.
Johnson's career
Johnson moved a lot between 1932 up until his death to and from the cities of Helena and Memphis, as well as the towns of Arkansas and Mississippi Delta. He even traveled as far as New York, Canada, Indiana, and even Texas when needed and would stay with distant relatives and female friends on other occasions.
He did not marry again but formed long-term relations with women wherever he traveled to and would return once in a while. In a place he did not know, he would simply stay with whichever woman he managed to seduce during his performance. He used different names for every city he went to, employing maybe eight surnames in total a least.
Biographers have tried to sum up Johnson's character and it can be said that he was soft-spoken, well-mannered, and indecipherable. All the people interviewed agreed that he was outgoing when in the public eye yet reserved in private.
The musicians who had worked with him before testified that he was an average guy and fairly nice with an exception of his outstanding musical talent and his weakness for women and whiskey.
Johnson was fast in terms of picking up tunes and used it to his advantage whenever he was at a new place such that he established a good rapport with his audience. Shines met Johnson when he was around 20 years old and described him as peculiar as he had a habit of always disappearing on people at the most absurd times.
It was around this time that Johnson established a long-term relationship with a woman 15 years older than him, Estella Coleman.
Johnson's Recordings
Between 23rd and 25th November 1936, was when his first recordings were done in San Antonio. He was said to have been shy as he recorded facing the wall during these recording days.
The theory has been put into question a lot as there is no concrete evidence to support the notion that he sang facing the corner. The songs that were recorded by Johnson while in San Antonio included 'Come on in my kitchen, 'I'll believe I'll dust my broom', 'Hearted Woman Blues' and 'Cross Road Blues'.
The first singles to be released were 'Last Fair Deal' and 'Terraplane Blues'. The latter did so well and sold 5000 copies. Johnson then traveled to Texas where he had another session for recording with Don Law. This was done in a studio that was makeshift at Vitagraph on 19th and 20th June 1937.
The following year, eleven records from the session were all released. He had recorded two takes of each song and the second takes all survived.
Johnson's death
Johnson's death has been reported to have been on the 16th of August 1938 when he was 27 years old near Mississippi. The cause of his death remains unknown.
There was no public report of his death. He just disappeared from history and it is only until nearly 30 years later when his death certificate was found by Gayle Dean Wardlow (a musicologist who was researching his life). The certificate just had the location and date of death. No autopsy had been done.
The first theory surrounding his death is that Johnson had been murdered by the jealous husband of a woman with who he had been flirting at a country dance.
The woman then gave him a drink that was allegedly poisoned by her husband. Williamson had slapped the drink out of his hand warning him not to take drinks from strangers. He was offered another drink and had it. Witnesses claim that he began feeling ill that evening and it was taken back to his room where his condition grew worse over the next three days until his death.
Robert Mack, a musicologist, claimed to have gotten the confession of the murderer but would not disclose his name. Quite many people have refused this theory including Tom Graves. He goes into depth about this in his book Crossroads.
A medical practitioner in 2006, David Connel suggested that Johnson may have suffered from Marfan syndrome which would explain his guitar playing.
The exact place where Johnson's grave also remains unknown. Researchers have however marked out three possible places outside Greenwood.
In conclusion, whether Johnson was involved in dark forces, got involved with dangerous people or not, what is known for certain is that he was astounding in playing the guitar. His talent speaks for itself and can be vouched for. It is also the one thing he left behind that generations after he can understand surrounding his life.