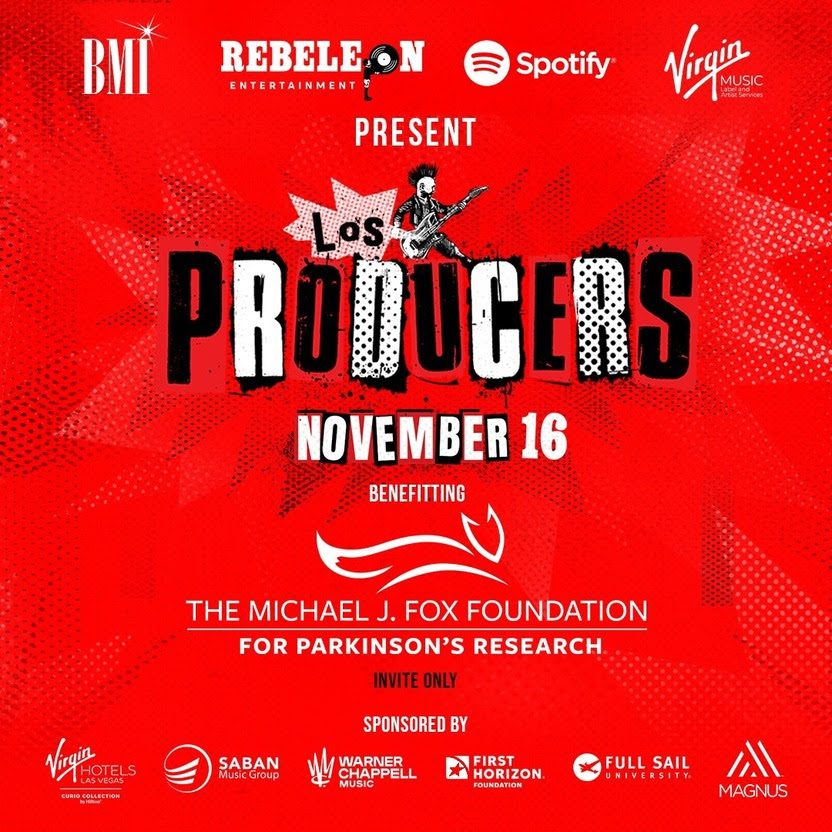 BMI (Broadcast Music Inc.),Rebeleon Entertainment, Spotify, and Virgin Music are proud to present the 10th annual Los Producers charity concert on Wednesday, November 16th. The private event will be held at the Virgin Hotel in Las Vegas and feature performances by an eclectic group of artists, including Cami, Pedro Capó, Elvis Costello, Silvana Estrada, Luis Fonsi, Sin Bandera, and more. The showcase will benefit The Michael J. Fox Foundation for Parkinson's Research (MJFF), which is dedicated to finding a cure for Parkinson's disease and improved therapies for the millions of people and families around the world living with the disease today. To support the Foundation's mission, click here.
Over the years, Los Producers has supported and brought awareness to various causes through music and has become one of the industry's most anticipated shows during Latin GRAMMY week. The star-studded charity event has raised hundreds of thousands of dollars for organizations such as Los Angeles En Mexico Foundation, St. Jude Children's Research Hospital, Education Through Music, City of Hope and Help Me Rebuild La Perla Foundation, among others. "Thanks to our performers, sponsors and music industry creators, Los Producers continues to bring awareness and support a multitude of charities ranging from Parkinson's and cancer research to music education," stated multiple GRAMMY and Latin GRAMMY award-winning producer Sebastian Krys. "This year, we're proud to bring together the Latin music community for an important evening that celebrates music excellence while shining a light and raising funds for Parkinson's research."
"Over the last ten years, Los Producers has become a cornerstone event during Latin GRAMMY week, and we are thrilled to continue our longstanding partnership with Rebeleon Entertainment and support this charity concert," said Jesus Gonzalez, BMI's Vice President, Creative—Latin. "Thank you to our talented performers and the Latin music community for being a part of such an impactful evening."
"The tremendous support spearheaded by Sebastian Krys, and community partners like BMI, through this event has helped amplify our mission to reach more people and families impacted by Parkinson's," said Deborah W. Brooks, CEO and Co-Founder of The Michael J. Fox Foundation. "Our goal is to build onramps for every person touched by this disease to connect them to the important role they can play in accelerating a cure. We're grateful for generous leaders like the Krys family who lend their talents and passion to support our ultimate goal of ending this disease for good." Some of the prominent artists who have performed at Los Producers over the years include Franco De Vita, Luis Fonsi, Nelly Furtado, Juanes, Mau y Ricky, Miguel, Rosalía, Alejandro Sanz and Kali Uchis, to name a few.
The 10th annual Los Producers charity event is brought to you by BMI, Rebeleon Entertainment, Spotify and Virgin Music, along with the support of this year's generous sponsors including Warner Chappell, Saban Music Group, Magnus, Virgin Hotels, Full Sail and First Horizon.