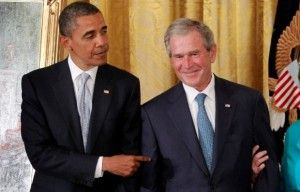 Today President Obama and First Lady Michelle Obama hosted former President George H. W. Bush, former First Lady Barbara Bush, and members of the Bush family to honor Floyd Hammer and Kathy Hamilton, the winners of the 5,000th Daily Point of Light Award.

The award "" established in 1989 by President Bush and presented by Points of Light, the largest organization in the world dedicated to volunteer service "" celebrates the power of individuals, alone and working together, to spark change and improve the world.
Natives of Union, Iowa, Hammer and Hamilton participated in a volunteer mission to Tanzania in 2004 to help renovate an HIV/AIDS hospital there. Startled by the starvation they saw, the couple started Outreach, Inc. to provide safe water, food, medical care and education to children and those in need at home and abroad.
To date, Outreach has distributed 230 million free meals to children in more than 15 countries "" including the United States. "If the purpose of this award is to celebrate Americans who work to make our country and world a better place "" not for their own advantage or for any ulterior motive, but just to serve, pure and simple "" I cannot think of anyone more deserving than Kathy Hamilton and Floyd Hammer," said President Obama.
"Today we can say that our country is a better place and a stronger force for good in the world because "" more and more "" we are a people who serve. And for that, we thank President Bush "" and his better half, Barbara, who is just as committed as her husband to service, and has dedicated her life to it as well. "President George H.
W. Bush said, "I have long believed that there can be no definition of a successful life that does not include service to others, but let me add there is no surer way to give life greater meaning, joy and purpose. Each of these Daily Points of Light we honor is yet another stepping stone toward building entire 'communities of light' where more citizens realize they have the ability to address even the most serious challenges we face in America today.
"Michelle Nunn, CEO of Points of Light, spoke of the newest Daily Points of Light: "Kathy Hamilton and Floyd Hammer are inspiring examples of people who saw a problem and didn't hesitate to step up and try to solve it. Their work has done so much to create healthier and happier lives for children, and they are the walking definition of points of light.
"Neil Bush, son of the former president and chair of the Points of Light board, said, "With Daily Points of Light as our inspiration and our guides "" not for another year or another 20 years, but in perpetuity "" we can build communities of light across the nation.
That will be the best possible tribute to my parents' lives of service. "Today also marked the launch of the Daily Points of Light Trust, which will advance President Bush's legacy by lifting up leaders in volunteer service, drawing attention and support to their work and inspiring Americans everywhere to step up and make a difference.

Disney will become a founding sponsor of the Daily Points of Light Trust, continuing a legacy of support that began in 1991, when Disney hosted and celebrated the first 575 Daily Point of Light honorees.
Disney's support will help the Daily Point of Light Award move into the future with a special emphasis on honoring individuals and organizations that support and promote volunteering for kids and families. "Disney has worked closely with Points of Light for more than 20 years to help mobilize the nation into action through volunteerism and service," said Robert A. Iger, chairman and CEO, The Walt Disney Company.
"We are proud to renew our commitment and deepen our relationship with an organization that shares our belief that we each have the power to make a difference in our own lives, our communities and the world around us."
The first Daily Point of Light Award winner was the Memphis Commercial Appeal (Nov. 22, 1989) for putting "the spotlight on citizens who have made community service a part of their definition of success and encouraged other people to do the same, proving that the volunteer spirit is alive and well in the Volunteer State."