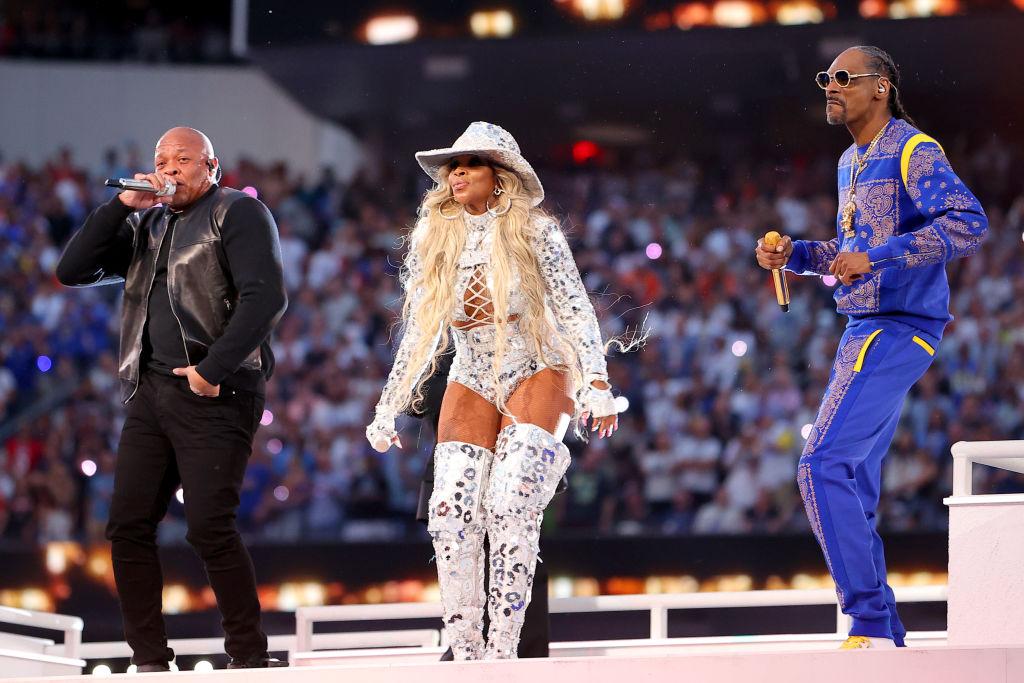 On Sunday, New York State police supporters boycotted Snoop Dogg's performance during the Super Bowl halftime show, quoting his anti-law enforcement lyrics. 
Snoop Dogg performed alongside fellow R&B and hip-hop musicians Mary J. Blige, Kendrick Lamar, Eminem, and Dr. Dre at Inglewood, California's SoFi Stadium during a show that was highly anticipated by fans.
The leaders of the Suffolk County Police Benevolent Associated made an announcement in the days before the show that they would not be watching the performance and encouraged others to do the same as well. 
Long Island's group's Facebook page shared a post on Feb.11 quoting the lyrics from Snoop Dogg's recently released song "Police" as a reason for not supporting the show. "Encouraging people to shoot police officers apparently earns you a spot as a headliner at the Super Bowl" the post read.
"If you choose to watch the game at all, (we won't be) halftime is a great moment to shut your TV off in honor of those men and women in blue who gave their lives for us," the post continued.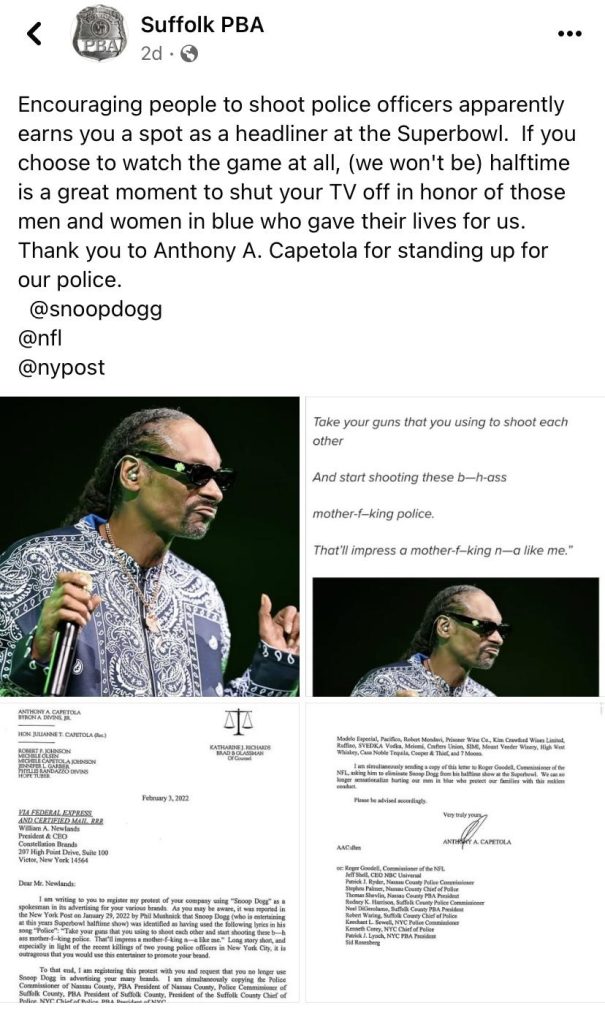 Per their Facebook post, some of the lyrics of Snoop Dogg's song that features J5 Slap and was released on Jan. 22, includes the lyrics "Take your guns that you using to shoot each other and start shooting this b **** a** mother***** police/ That'll impress a mother**** n***** like me."
Washington Times reported that those specific lyrics were not delivered by Snoop Dogg, but by someone he collaborated with on the song.
The post from SCPBA also included a copy of a letter penned on Feb. 3 by attorney Anthony Capetola, calling for the NFL to drop Snoop Dogg from the show and Constellation Brands to remove him as a spokesperson. Snoop Dogg has an endorsement deal with Corona Beer, which is owned by Constellation Brands.
Although SCPBA attempted to have Snoop Dogg banned. The musician still appeared onstage alongside his fellow musicians to perform a medley of hits during halftime. After the Pepsi-sponsored performance. Snoop Dogg retweeted numerous posts praising the show.
"Thank you 4 a beautiful night !!" he tweeted.