Radio Facts: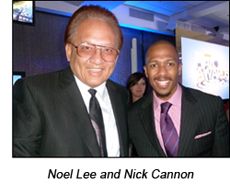 MONSTER AND NICK CANNON DEBUT FIRST "NCredible" LIFESTYLE PRODUCTS,
YOUTH-ORIENTED HEADPHONES THAT OFFER EXTRAORDINARY
MUSIC EXPERIENCES
— New NTuneâ"¢ On-Ear Headphones and Nergyâ"¢ In-Ears Are First In a Planned Family of
Trendsetting Products to Be Created as Part of Monster/Nick Cannon Alliance —

New York, NY, November 9, 2011 — Monster, world leader in the manufacturing of high-performance headphones, connectivity solutions and consumer electronics accessories, and Nick Cannon, are proud to announce the first "NCredible" lifestyle consumer electronics products developed through their previously announced alliance. First up in the trendsetting Monster/Nick Cannon NCredible line is NTune On-Ear Headphones (SRP: $149.95) and Nergy In-Ear Headphones (SRP: $69.95) available in January. Both headphones bring next-level design and high-performance audio to the most popular headphone styles. Like all NCredible products, the new headphones combine superior performance and style with fun, common-sense convenience features, all in a hip, compact package designed to empower today's youth through music and reflect energy, optimism and vitality.
Nick Cannon knows entertainment. That's why he brought his NCredible ideas to Monster to create these new headphones that let users hear music like they've never heard it before. Details pop, bass booms, and Monster's advanced audio technologies keep it all distortion free, no matter what the volume! Nothing motivates you like music, and this is music the way it's meant to be.
Nick Cannon noted: "Music has a very important place in the lives of young people. How they listen, how they share and how they express their passion for music are all things that empower them to grow and learn. That's why I am so thrilled to be partnering with a company like Monster, which has such a strong commitment to great sound and to providing the very best music listening experiences possible."
Total Comfort, Precision Tuning for All Types of Music
Both new NCredible headphones offer total comfort and are precision-tuned to reproduce the subtle nuances of all types of music, from hip-hop, rap and rock to house, and pop. The NTune on-ear headphones are designed from the ground up with a host of innovative Monster technologies to deliver superior performance, durability and style, making true professional quality audio available to everyone.
The lightweight, on-ear design of NTunes makes them easy to wear all day long. They also feature tangle-free cables for total ease of use, and their low profile right angle connector adds to their comfort and flexibility. Monster's Nergy in-ear headphones deliver an astoundingly big sound for their compact size, thanks to a number of Monster audio innovations, including newly developed drivers. Among the innovations of the in-ear headphones is their unique Nergy ear buds, which snap together magnetically to create a necklace when not being used! Both Nergy headphones and NTunes feature a prominent NCredible medallion as part of their stylish look.
Head Monster Noel Lee stated: "As someone who has always been fascinated by technology, science, and music, I have seen first-hand how a passion for these subjects can lead to a rich and meaningful life. Most importantly, I learned to understand how the proper support and encouragement could lead to empowerment and self-confidence, no matter what career you choose to pursue later in life. By teaming up with an influential powerhouse like Nick Cannon to create our NCredible CE product line, we are aiming to help today's young people follow their passion for music and style, grow, learn, and be motivated to make a difference."
The new NCredible headphones feature Monster's advanced ControlTalkâ"¢ Universal, which provides easy music playback control for most Android and Blackberry devices, as well as hands-free calling with many smartphones.