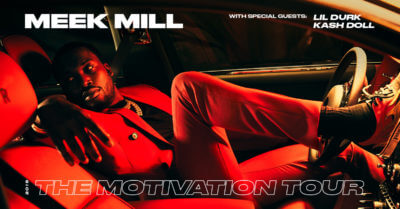 Multiplatinum hip-hop artist Meek Mill today announced the addition of hip-hop artists Lil Durk and Kash Doll to his highly-anticipated

 

"The Motivation Tour" 

that kicks off on February 19 in Miami.
The trio will embark on a 16-city, U.S. tour that will make stops in Los Angeles, Chicago, New York and Philadelphia, among many other cities before wrapping on March 24 in Atlanta. 
"Can't wait to hit the road with Durk and Kash Doll – they're both young, talented and hungry. I've watched them grind over the years and I know they're both gonna put on great shows." 
Lil Durk – a Chicago native – recently released his third-studio album "Signed to the Streets 3" in November 2018, which peaked at No. 17 in the Billboard Top 200 chart. The 26-year-old has released three studio albums and delivered an array of high-profile collaborations, including"Like Me (feat Jeremih)," "My Beyonce (feat Dej Loaf)," and "She Just Wanna (featuring Ty Dolla $ign).
"It's something we wanted to do for a while with Meek," Lil Durk said. "Excited to be on the tour with him and even more excited to perform some new and past music for my fans!"
 Kash Doll, who hails from Detroit, Michigan, will also open for Meek and maintain the momentum since releasing her single "Ice Me Out" and the "Brat Mail" mixtape. Kash Doll first burst onto the music scene in 2017 with the release of "For Everybody," which exploded online and gained her both a BMI and BET Social Awards. She has since become one of the most buzzed about emerging artists of the year. 
"It's lit! I'm so excited to join Meek's tour," Kash Doll said. "We represent the same thing, but I bring the female energy. He's become one of the most visible advocates for criminal justice reform too and that makes supporting him on tour a real honor. This isn't just a tour, it's a celebration. Let's get it!"
Prior to starting his domestic tour, Meek will take the stage at the 2019 NBA All-Star Game on Sunday, Feb. 17 at the Spectrum Center in Charlotte, N.C., where he will perform hits from his chart-topping album "CHAMPIONSHIPS" and deliver an entertaining introduction of the All-Star teams. CHAMPIONSHIPS was recently certified gold by the Recording Industry Association of America (RIAA).
Tickets to watch Meek, Lil Durk and Kash Doll are currently on sale here.