Be Careful What you Tell a Child, They Just Might Believe You
Without question, you will come across many tributes to Little Richard who died at 87 today. Fun-loving happy-go-lucky-Tootie-Fruity tributes that won't even touch the pain and suffering he endured his entire life and career about his sexuality which, for him, while well concealed, seemed to be greater than his success.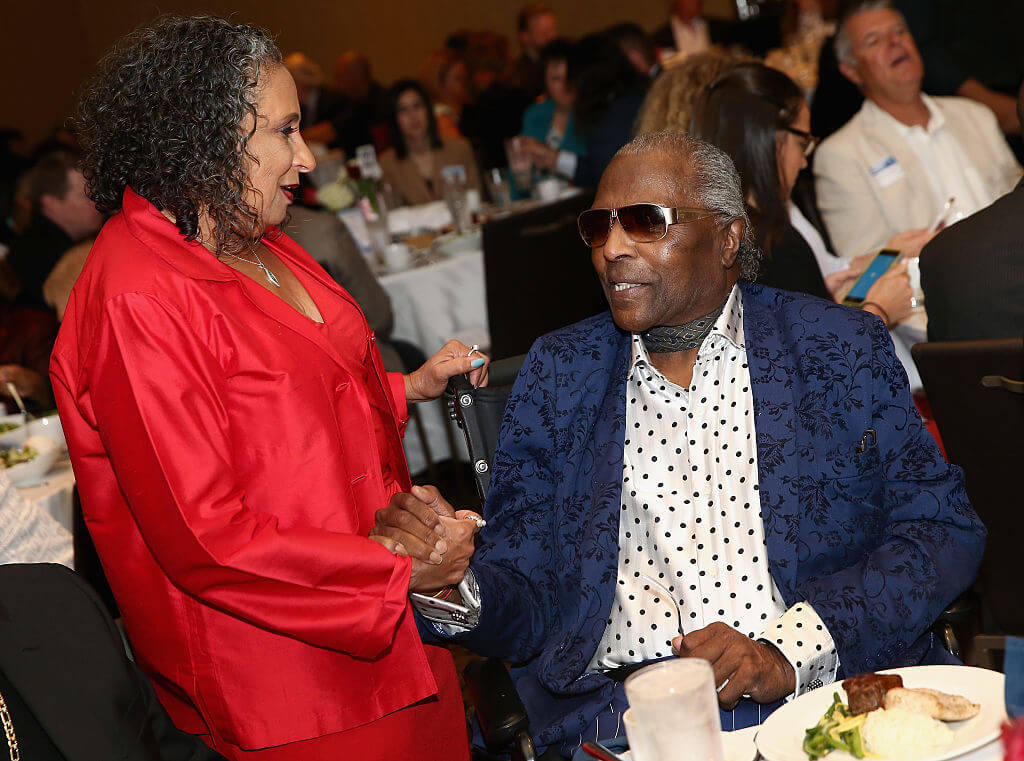 Little Richard's sexuality was something that he went home to each night no matter how great his performances were. Especially in those days of extreme racism from whites and extreme homophobia from Whites AND blacks AND the Black Church a high ranking resource for Black people during those days.
Celebrity is one thing but self-acceptance is EVERYTHING. Little Richard was not the problem but it was the outside world that judged and punished him for who he was and he carried that weight with him his entire life and dealt with it as best he could at the end of his life. He just wanted to be himself but was scorned for it.
In a Youtube video below, Little Richard made an appearance on the Donnie and Marie show about 20 years ago promoting the Robert Townsend movie about his life where he broke down and cried about the way his father treated him and the shame that he felt for not measuring up to who his father wanted him to be (see the clip below at the 6:40 mark). His angst was incredibly apparent on the Donnie and Marie show and he was even apologetic for who he was as if he owed that to someone. By the level of emotion, he displayed in that break down of pent up emotions, he left Donne and Marie with little wiggle room for the next question or to get out of the situation comfortably
The black community, especially boys and men are (and have always been) outrageously homophobic (in group think concepts for the most part) and quite often gay black men and women hesitate to stand up to the oppression and outrageous opinions and statements made by those outside of the LGBT community about LGBT people which allows the propaganda to be seen as truth instead of bigotry, hypocrisy, and target practice.
Black LGBT men and women are often economically able to completely walk away from the situation and emancipate from the Black community but quite often stay for the unrequited love and hopeful overnight and overly optimistic change-of-mind acceptance of those who are abusive towards LGBT people in the black community, like a bad marriage that should have ended in a divorce years ago.
When a young black gay boy kills himself, one who may be as or MORE talented than Little Richard but will never realize it, it is often a shoulder-shrugging event in a large part of the black community, an "Oh well!" send-off to his bullying and torture and a lack of concern that could have preempted his decision to take his own life. Bullying is the one predatory concept that will never get the attention that rape, molestation, and stalking does because it is the only predatory act that involves a community of people instead of one person.
To that end, it is often the straight Black female entrepreneurs and other Black women who are at the forefront to create campaigns to assist his often single mother with funeral costs and rallying celebrities to speak out against homophobia in the black community. True Entrepreneurs are natural problem solvers and often champions of the underdog repetitively seeking concepts for a better world.
The black church, often hypocritical on many levels, but at one time solidly embedded in the black community has always firmly preached against homosexuality even encouraging black parents to disown their gay chidden during the AIDS crisis which many close to her say was one of the reasons for Phyllis Hyman's severe depressive episodes. She had been visiting sick Black men in hospices who were thrilled to see her and she didn't understand why they wanted to see her over their own family and then she learned they had been disowned by their family because of the church. But I digress …
Little Richard grew up in the church just like Whitney Houston, Billy Preston, and many other LGBT entertainers who suffered the same self-doubt and self-hatred not because of who they were but because of how they were conditioned to think WHAT they were even before they had an idea.
Richard Wayne Penniman aka "Little Richard" did not have the best start in life. Born poor as the third of 12 children he was very talented but his father was ashamed of him and he not only felt it, he knew it. In the movie about his life, he overhears his father talking about how he would grow up to be an embarrassment. Those words and that rejection followed him during his entire career and he tried his best to hide it but it came out in other ways from wild sex parties to drugs and more.
I once knew a man who toured with Little Richard and the things that he told me that went on during those tours were shocking to say the least but speaks volumes for the level of self-doubt and self-hatred that Little Richard had been conditioned by.
Little Richard always thought that he should have been the King of Rock and Roll and rightfully so. Most other rock legends came after him and often stole the concepts of black artists in those days. Artists like Elvis Presley and Pat Boone were given black songs to rerecord because radio stations refused to play the black versions. Even the labels thought it was better not to have images of the black artists on their versions of the albums. Little Richard wore heavy makeup and wigs during most of his career and the makeup was at last 10 shades lighter than he actually was. Perhaps in an attempt to be accepted by mainstream media for his music.
Towards the end of his life and suffering from Lewy Body Dementia (the cruelest of all Dementia's because the body goes first and the brain is the last thing to go) Little Richard denounced his gay lifestyle to the delight of Christians and churchgoers but by that time he had lived a full life. Perhaps he wanted to get right with their God. Was he renouncing his lifestyle or finally acquiescing to the conditioning that he repeatedly received as a child? Only he knew.
Hopefully, he will finally get to Rest In Peace with who he was and how he was … meant to be.