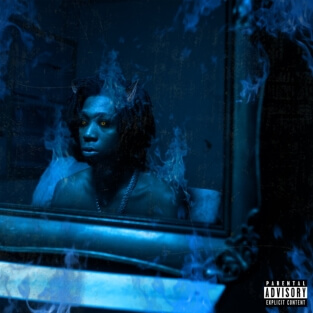 LIL LOADED RELEASES "A DEMON IN 6LUE"
Today, buzzing Texas rapper Lil Loaded unveils his new mixtape A Demon in 6lue. Get it HERE via Epic Records.
To celebrate the project's arrival, he just dropped the music video for the new single "While I'm Here" [feat. Polo G]. Produced by Seph Got The Waves [Ty Dolla $ign, Trippie Redd], a smooth guitar lead cries out before the skittering beat takes hold. Loaded dips in and out of the bounce with confessional verses and bold boasts as he assures, "I know that I'm the man…I know they can't replace me." Meanwhile, Polo G comes through with an equally cathartic cameo and a promise, "All you see is blood when the demons get provoked." Watch it HERE.
Elsewhere, he devours ominous production with a gruff bark and hyper-charged flow on "Narco," and his melodies cut deep on "Emotional Killer." Throughout the Global Pandemic, Loaded has built momentum for the impending arrival of the tape, slowly but surely. He recently revealed the opening track and single "To The Max." It has already cracked 500K Spotify streams and 959K YouTube views on the music video in just two weeks. Additionally, he joined forces with NLE Choppa for the Remix to "6locc 6a6y" and YG for the Remix to "Gang Unit," paving the way for A Demon in 6lue.
Check out the full tracklisting below.
Meet a A Demon in 6lue now.
Loaded did it again!
To date, Lil Loaded has racked up 160 million-plus streams in the United States. In addition, his breakout banger "6locc 6a6y" gathered 65 million total streams to date, generating 1 million streams per week a year since its release. Beyond impressive numbers, he has inspired tastemaker applause. Complex praised his "hard-hitting street anthems" including "Gang Unit," and named Loaded "Best Artist of the Month of April." Lyrical Lemonade went on to say, "Loaded eviscerates this instrumental and provides another memorable hook that is sure to be stuck in my head all day." Elevator Magazine summed it up best, "Texas has been producing some great, rising drill artists lately and Lil Loaded is no exception." Lil Loaded remains primed to explode in 2020.
TRACKLISTING
To The Max
Narco
High School Dropout
While I'm Here [feat. Polo G]
Emotional Killer
Stay 6lue
The Dash
Lil Bro
Hit Em Up
6locc 6a6y Ways
SAME THANG
Showdown
Every Time We Step
24 Kobe
Woken Dreams
6locc 6a6y Remix [feat. NLE Choppa]
Gang Unit Remix [feat. YG]