Ahead of the prestigious Jazz FM Awards, nominees for PRS for Music UK Jazz Act of the Year, Yazz Ahmed, Joe-Armon Jones and SEED Ensemble, will be celebrated across Jazz FM in a day of specially dedicated programming on Thursday 22 October from 8.30am.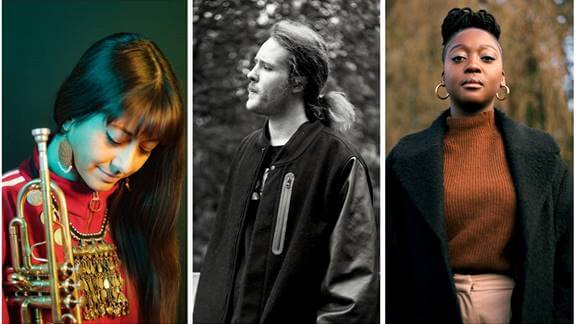 Earlier in the year, the all-important public vote for the award allowed jazz fans up and down the country to have their say and decide who to crown as PRS for Music UK Jazz Act of the Year. The winner will be announced at The Jazz FM Awards on Tuesday 27 October, livestreamed from Ronnie Scott's Jazz Club at 7pm. The ceremony will be broadcast on Jazz FM's Facebook and Jazz FM.
Nominees for this year's award include British-Bahraini trumpet player, Yazz Ahmed, who seeks to blur the lines between jazz and electronic sound design through her music, bringing together influences from her mixed heritage in what has been described as 'psychedelic Arabic jazz, intoxicating and compelling'.
Also nominated is Joe Armon-Jones, Ezra Collective co-founder and talented keys player, who is taking the UK Jazz scene by storm with his combination of traditional Jazz, Hip-Hop and Dub flows. Armon-Jones combines free-flowing, dynamic energy with a bigger vision.
Completing the nominations is Mercury Award nominated ten-piece band SEED Ensemble. Formed in early 2016, the collective is led by alto saxophonist and composer Cassie Kinoshi. Combining jazz with inner-city London, West African and Caribbean influenced groove, SEED Ensemble explores a blend of genres through original compositions and improvisation.
 PRS for Music, CEO, Andrea C. Martin, said: "We are incredibly proud to continue our support for the Jazz FM Awards and all of the talented musicians they honour. Without exception, the UK is home to some of the best jazz in the world right now and the eclectic nominees, as chosen by the public, evidence just how vibrant homegrown talent is."
PRS for Music member and artist, Yazz Ahmed, said: "I'm so happy to be nominated for the PRS for Music UK Jazz Act of the Year alongside some incredible musicians. I can't wait for the awards themselves and although its behind closed doors this year, I'm looking forward to performing live on the night from Ronnie Scott's for everyone watching at home."
PRS for Music, the organisation that represents the rights of more than 150,000 songwriters, composers, and music publishers, works to support and nurture the creation of music through its industry partnerships.