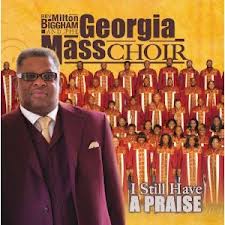 Music Group is proud to announce that both The Georgia Mass Choir's, "I Still Have A Praise Inside Of Me" Featuring Rev. Milton Biggham & Mississippi Mass Choir's , "Lord, You're The Landlord" appears on the Mediabase National Gospel Chart at #21 and #28 respectfully.
The Georgia Mass Choir, "˜I Still Have A Praise' Full CD made its "Hot Shot Debut" onto the Billboard Gospel Album Charts this past week. (Issue Date 10/12/12) (Available Online & In Stores)
Reverend Milton Biggham, Savoy / Malaco Records Executive Director, founder and director of this award-winning choir is sometimes referred to as the "˜King of Gospel Choirs' for his invaluable and expansive contribution to the world of gospel choir music. He is credited for producing many Gospel Legends including, Rev. James Cleveland, The Caravans, Lou Rawls and many others along with discovering stand-out gospel artists Kirk Franklin and Donnie McClurkin through his direction in their work with both the Georgia Mass and The New York Restoration Choirs. Kirk Franklin enjoyed his first hit with "Joy" and Donnie McClurkin's debut single, "Speak To My Heart" also claimed the top of the charts.
The Mississippi Mass Choir are the 2012 "Traditional Choir Of The Year" Stellar Award winners for CD "¦Then Sings My Soul." The single "Lord, You're The Landlord" Featuring Lillian Lilly is taken from that release. The Mississippi Mass Choir were the recipient of the Thomas A. Dorsey Notable Achievement Award at the 25th Annual Stellar Gospel Music Awards. The award is named in honor of the "Father of Gospel Music," Thomas A. Dorsey and recognizes individuals doing outstanding work in the Gospel music community. They are just the second recipient to receive this award.