Radio Facts: Radio Facts: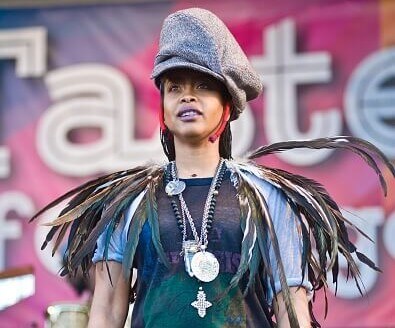 Once the summer finally decides to show up in Chicago, it is literally one the best places in the country to check out a good show. Allow me to set the scene: Imagine a downtown landscape where skyscrapers tower above the pulse of the city as bankers, city workers, and everyday people go about their business as tourists and natives journey to a food festival right off the Great Lake Michigan. If you don't know, I'm talking about the Taste of Chicago, which is the nation's premier outdoor food festival showcasing the diversity of Chicago's dining community. The delicious array of food served at Taste of Chicago is complemented by music, activities, and the grandeur of the city.
On a brisk Chicago evening after New Orleans own, Trombone Shorty rocked out and had all the Chitown saints marching in to the rhythm of his trombone, trumpet, and full band, Erykah ascended from the land of Badu to the delight of an energized crowd.  As the sea of people were feeling the spirit of the evening as well as the spirit from the spirits that were being served, the full-bellied crowd was ready for Fat Belly Bella to do her thing.
Erykah Badu did her thing and more.  She is such a refreshing artist because she doesn't take her self too seriously yet she is highly passionate about her art. She also seems to be at a point in her life where she is quite comfortable in her own skin. Once you reach that point as an artist, you truly begin to shine and she shined from the moment she hit the stage to the very end when she had everybody calling Tyrone.   From "On and On" to "Love of My Life" to "Danger," Erykah was exhilarating blend of soul, R&B, and hip hop music. She had the crowd on lock and the downtown blocks were hot. She even had the sign language interpreter on the side of the stage grooving and going  crazy.  Ms. Badu delivered with extraordinary vocals, great energy, and hilarious comedic timing.  Yes, I said comedic timing. She displayed her humor on several occasions throughout the show but one of the funniest moments came when she sang the word, "Ni**a" at least 3 times just so she could see what the official sign for "Ni**a" was from the sign language interpreter.  We also found out that Erykah loves to use the word "Shiiii**t."
After seeing her perform, it's no surprise why the Dallas, TX native loves to use the word so much. Frankly speaking Erykah Badu is the Shi!t! Although Erykah gave a solid performance, I don't think anyone wanted her to leave. She knows what she is doing because if you give them everything, there is nothing else to look forward to.  Erykah Badu came to the CHI and gave everyone a very special Taste of Baduizm.