Radio Facts: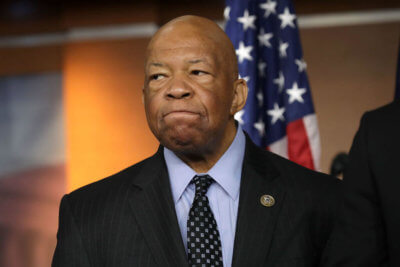 Congressman Elijah Cummings Stood up for his People and Spoke Truth to Power, SCLC President and CEO Dr. Charles Steele, Jr. said about the Longtime Maryland Representative
Dr. Charles Steele, Jr., president and CEO of the Southern Christian Leadership Conference (SCLC), the Atlanta-based civil rights organization co-founded and first led by Dr. Martin Luther King, Jr., issued the following statement today following news of the passing of longtime Baltimore Congressman Elijah Cumming, who died this morning at the age of 68.
"Congressman Cummings was a gentleman who paved the way. It is too his credit that he paved the way for so many of us and for the next generation in terms of taking a stand on the toughest issues and not just those in political arena, but in civil rights. So, we salute him. He was not only a powerful congressman, but a leader of all Americans. Most people do not know the impact he had as a congressman and as a civil rights leader. He stood up for the people he represented in Congress. As a representative who served for over two decades, he was also a role model and an influencer for those in politics at the municipal, state and federal levels.
He was truly a motivation to me. It is not easy to lead out here during this time with all the divisiveness in politics, civil rights and throughout the world. But when you have someone like Congressman Cummings saying, "You are on the right track, don't give up, keep doing what you are doing, because everything is going to be alright," then you are motivated to continue.
We lost an icon, but the lost will not be significant because of Congressman Cumming's impact and influence to make sure someone is prepared to fill that vacuum and replace him. We all must leave at some point and time and make our transition, but the true test of leadership is always about the commitment and the example we are leaving behind. We must all think about our legacy. He was an icon because of his legacy. The image he left behind as a leader who was committed and always challenging the powers that be on behalf of those he served. He gave strength to the movement by saying I am in Congress, but I have not forgotten my roots. He spoke truth to power. That is what he did and why he will always be remembered."