Radio Facts: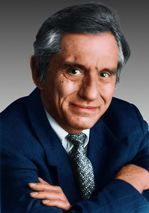 Dig Inside Modern Day Talk Radio
Barry Farber, the dean of talk radio, uncovers talk radio's dirty little secrets and looks ahead to the future of the medium.
On September 18, 2010, the dean of talk radio, Barry Farber will celebrate his 50th consecutive year on talk radio. Don't miss his insights on talk radio's humble beginnings, the evolution of today's top talk radio talent and the future of the industry.
Farber launched his radio career in New York in 1960 and began hosting a national talk show on the ABC Radio Network in 1990. The National Association of Radio Talk Show Hosts named Farber 1991's "Talk Show Host of the Year". Farber was recently ranked number twelve on the "Heavy Hundred of All Time" list by Talkers magazine. An accomplished author and columnist, Farber is a student of 26 languages.
WHAT: Barry Farber celebrates 50 years in talk radio with a look back (and forward) at the moments that have and will define the talk radio industry!
WHEN: September 14-17, 2010
Barry is available to talk about these topics and more!
* Find out how a payola scand al is responsible for creating the biggest names in the business.
* The impact of talk radio on American politics.
* What will it take for talk radio to survive and surpass its competition?
* Talk radio's biggest scand als.
* Remembering 9/11.