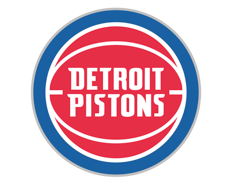 The Detroit Pistons announced today that the club has agreed to a multi-year broadcast agreement with 97.1 FM The Ticket (WXYT), making the Radio Station the team's radio flagship partner beginning with the 2017-18 season. Charlie Metzger, Executive Vice President and Chief Marketing and Communications Officer for the Detroit Pistons and Debbie Kenyon, Senior Vice President/Market Manager for 97.1 FM The Ticket made the joint announcement. Per team policy, terms of the agreement were not disclosed.
"The Detroit Pistons are thrilled to be returning to 97.1 FM The Ticket and re-establishing our partnership with the CBS Radio family," said Metzger. "Given the Radio Station 's position as the market leader in local sports radio, returning to 97.1 The Ticket is a natural fit for our organization and Pistons fans will enjoy high-quality game broadcasts and related team content throughout the NBA season and beyond."
"97.1 The Ticket is excited to bring the Detroit Pistons back to the Radio Station ! We've always maintained a strong relationship with the team; we look forward to bringing Pistons fans exciting game day broadcasts and exclusive coverage and being a part of the team's inaugural year at Little Caesars Arena," added Debbie Kenyon, Senior Vice President/Market Manager, CBS RADIO Detroit.
Under the agreement, 97.1 FM The Ticket will broadcast regular-season, preseason and postseason games. Pistons fans and 97.1 FM The Ticket listeners will also receive exclusive pre and post-game coverage, interviews with players, coaches and front office executives and additional coverage throughout the week during the NBA season. Game coverage and additional programming will also be available online at www.971theticket.com and by engaging mobile apps for 97.1 The Ticket and the Detroit Pistons. Game broadcasts that conflict with scheduled Detroit Red Wings or Detroit Tigers broadcasts on 97.1 FM The Ticket will be carried on WWJ 950 AM.
Mark Chion will return for his 24th season as the radio play-by-play voice of the Detroit Pistons and will continue his partnership with "Bad Boy" Rick Mahorn, who will be serving his 16th season as basketball analyst.