November 8, 2019
WASHINGTON – WHUT will broadcast this live three hour special from the 2019 Presidential Forum on Environmental Justice, tonight at 6 p.m. – 9 p.m. Democracy Now!'s Amy Goodman will co-moderate the forum. To watch the broadcast, check your local listings.
Senators, Elizabeth Warren and Cory Booker, Tom Steyer, Marianne Williamson and other presidential candidates will take part in the forum at South Carolina State University in Orangeburg.
The forum — hosted by the National Black Caucus of State Legislators and leaders from frontline and tribal communities, civil rights, youth, and environmental organizations — will include discussion on how presidential hopefuls intend to manage the impacts of the climate crisis on the communities most affected.
To see the promotional video, visit: https://adobe.ly/2Cq9mi4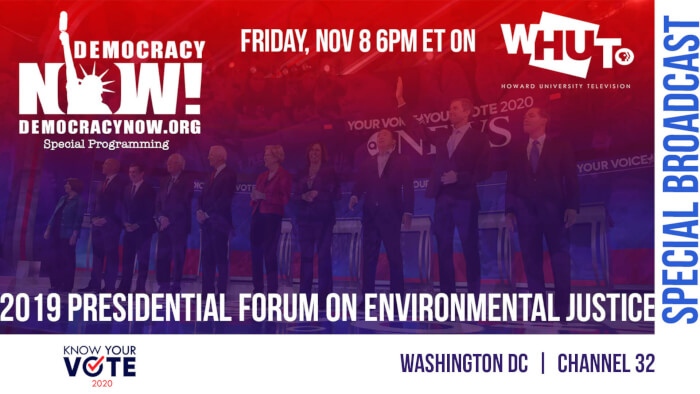 # # #
Press Release WHUT staff Undergraduate Students Graduate Students / Professional Students Faculty / Staff Prospective Students Alumni & Friends