Radio Facts: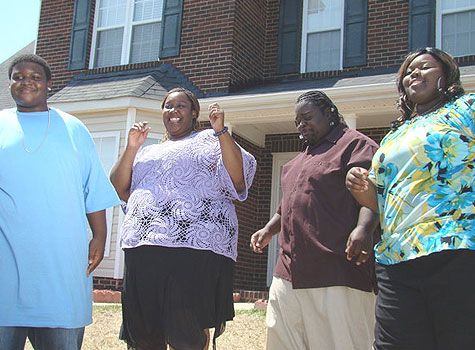 OK for the longest time the jury was out on this one. I didn't think I liked the show. However, now I think it's a good idea to show that obese fat ass black people do exist and I love the fact that they are intelligent and can complete a sentence. They also appear to be very secure with themselves which is another plus. K
TLC's ONE BIG HAPPY FAMILY premieres August 3 at 10 PM (ET/PT) as it continues to follow the Cole family- Mom Tameka, Dad Norris, daughter Amber and son Shayne through their difficult journey to overcome their obesity.  The supportive family of four sticks together through thick and thin during their struggle to lose weight and their promise to each other to adapt to a healthier lifestyle.
ONE BIG HAPPY FAMILY:
Babies and Big Rigs
Premiering Tuesday, August 3 at 10 PM (ET/PT)
Tameka is looking for a career change and tries out truck driving school.  Amber and Shayne visit their friend who just had a baby.  They come home to find their parents want to talk to them about the birds and the bees.
ONE BIG HAPPY FAMILY:
Getting on the Right Path
Premiering Tuesday, August 3 at 10:30 PM (ET/PT)
Tameka decides the backyard needs a revamp and enlists the family to construct a weight loss monument.  When faced with actually executing it, the Coles' realize this is going to be a bigger project then anticipated.  Tameka and Norris go for a night out.
SNEAK PEAK:
https://www.youtube.com/watch?v=PZzhiSSMB18