Radio Facts: Radio Facts: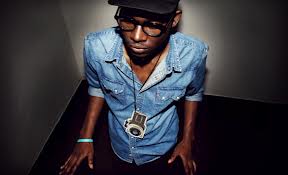 Step aside cognac and champagne, the new movement in Hip Hop is Moscato. Last night in Los Angeles, SKYY Vodka unveiled the "House of Moscato," an exclusive cultural hub highlighting the new world of Hip Hop "" an intriguing blend of music, art, fashion, design and cocktailing. Music's hottest performer, Theophilus London hosted the event, which also served as the launch of new SKYY Infusions Moscato Grape, the first nationally available vodka infused with delectable, sweet Moscato Grapes.
Held at Hollywood hotspot Greystone Manor, the event was attended by some of Hollywood's most in-demand celebrities including Grammy Award winning singer, song-writer, and actress Ciara, actress Vanessa Hudgens , and former BET correspondent and current host of Entertainment Tonight Rocsi Diaz, among others. Theophilus London treated the capacity jet-setting crowd to a high energy special performance, while Just Blaze and Chuck Inglish performed DJ sets. House of Moscato visuals were designed by digital artist Kesh, who blended her inspirations from music, design and modern technology to create the cultural institute's unique aesthetic.
Just as SKYY Infusions Moscato Grape creates an innovative cocktailing experience by combining two nightlife darlings, Moscato grapes and premium SKYY Vodka, into a singular cocktail experience, the House of Moscato celebrates the artists who transcend traditional hip hop music boundaries. From Theophilus London, who has worked with leading artists in almost every musical category to create a range of diversified sounds, to Kesh, a downtown doyenne who also serves as Jeremy Scott's muse, these unique artists embody a cultural relevance that renders compartmentalized old genres obsolete. Headlining DJ Just Blaze also illustrates this vision, refusing to be defined by just his impressive roster of producing credits, which includes legends such as Jay-Z, Eminem and Maroon 5. The House of Moscato aims to embody and showcase these unique artists' shared manifesto through a distinctive blend of culture, music and cocktailing.
"Moscato has developed its own fascinating aura, resonating across the realms of music, art, fashion and design. The House of Moscato sits at the intersection of urban culture and progressive cocktailing – the perfect backdrop for launching SKYY Infusions Moscato Grape," said Jason Daniel, Brand Director, SKYY Vodka.
SKYY Infusions Moscato Grape joins the brand's existing line of premium flavors, which includes Wild Strawberry, Coconut, Dragon Fruit, Blood Orange, Pineapple, Ginger, Cherry, Grape, Citrus, Raspberry and Passion Fruit.
This exclusive event was a private affair, but fans can visit https://www.facebook.com/SKYYVodka or Twitter: @SKYYVodka for an inside look at The House of Moscato. A donation on behalf of the event was made to the Women in Entertainment Empowerment Network.