"This apology lacked any personal, there was nothing personal there," says Jerry O'Connell. "I would have preferred maybe a video. It seems to me like a lawyer wrote it." "While it's a well-crafted response, apology, I felt legalese. It didn't feel personal," agrees co-host Paula Abdul.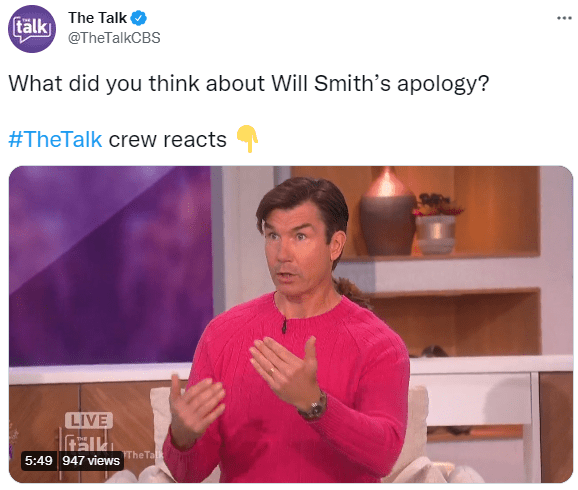 "Visual connection means everything. Recording a video would have been way more effective and actually more appropriate." O'Connell adds, "As a man, if I got smacked in the face on the biggest television show in the world, that is really embarrassing to me. I am embarrassed.
And when an apology comes, I want to see embarrassment from that apology as well." Sheryl Underwood, "I know of no man that would have taken getting slapped in front of his peers. That's why give it up for Chris Rock…Does anybody care about Chris Rock? Akbar Gbajabiamila reacts to ​whether Rock should apologize.
"I think he should apologize for offending her, but I don't think he apologizes for the joke." Underwood adds, "When he said keep my wife's name out of your mouth, Chris Rock said "I will," and to me that showed apology and contrition." 
Tuesday on "The Talk" the hosts react to Jim Carrey saying he's 'sickened' by 'spineless' Hollywood in light of the Will Smith Oscar slap. Guest co-host Paula Abdul says, "What's wrong with us if we're going to give a standing ovation to a man that just got violent with someone over a joke?
I stand with Jim Carrey on that." Akbar Gbajabiamila adds, "If Chris Rock was Regina [King], Wanda Sykes, a woman, and that had happened, Will Smith doesn't get honored on stage, no one's standing up. Makes you think, like how does Hollywood feel about a man being assaulted?….In that moment, everyone just says we're going to pretend like that didn't happen, and just keep clapping. And that's wrong, that's a disservice to Chris.
They just told Chris Rock how they felt about him as a comedian and how they felt about him as a man." Sheryl Underwood adds, "What really this showed, the line in 'Gladiator,' 'Are you not entertained?', because nobody stopped to check to the dude that got hit…no one still went up to Chris Rock and said, 'Are you okay?' 
Who did they console?…I'm going to say this as a comic, I am afraid now to get on a stage, because in my third show, when everyone's been drinking. If you don't like my joke, do you now believe that you can get up and slap me? There's got to be accountability quicker."