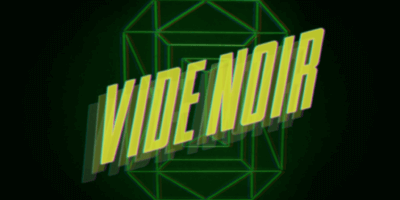 DIRECTOR ARIEL VIDA AND LORD HURON RELEASE ADVANCED LOOK OF FULL-LENGTH MOVIE VIDE NOIR
Having just wrapped up an 18-month tour in support of their album Vide Noir in Calgary, AB last week, Lord Huron and director Ariel Vida have announced today they are further exploring the world of Vide Noir with a feature-length film of the same name. By no means a mere visual album, Vide Noir is a neo-noir mystery film set in late-Sixties Los Angeles, chronicling a surreal, nocturnal journey through the lens of a space-and-time-bending drug. The film was directed by Ariel Vida and written by Lord Huron's Ben Schneider, and features a score by the band with new arrangements of their music throughout. Lead by newcomer Victor Mascitelli and NOS4A2 and The Goldfinch star Ashleigh Cummings, the film will be released in early 2020 and serve as both a stand-alone exploration of and the final chapter in the story of Lord Huron's Vide Noir. Released in April 2018, the album became the band's first-ever Top-5 Billboard 200 debut, led them to sold out shows and festival appearances across the country, and was praised by critics everywhere, with NPR calling it "cinematic" and Under the Radar hailing it as "the band's most musically striking release to date." In addition, the album marketing campaign won a Silver Clio Award for its creativity, activations, and overall success, making the band one of a handful of artists to ever win this prestigious honor.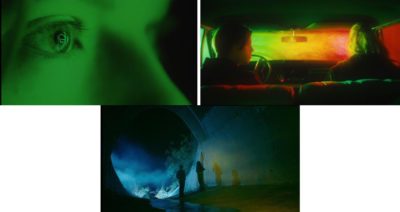 [caption id="attachment_201507" align="aligncenter" width="427"]
BMI President and CEO Mike O'Neill[/caption]
BMI Sets Revenue Records With $1.199 Billion –Company Distributes $1.118 Billion in Royalties, a $95 Million Increase
BMI has once again broken revenue records, generating $1.199 billion for the fiscal year ending June 30. The company also distributed and administered a record $1.118 billion in royalties to its songwriters, composers and publishers, an increase of $95 million, or 9% higher than the previous year. These results mark the most public performance and highest royalty distribution of any music rights organization in the world. Mike O'Neill, President and CEO, BMI, stated, "Thanks to the incredible creativity of our songwriters, composers and publishers, BMI was once again able to generate record revenue and distributions on their behalf. While we are proud of achieving these results, we will always strive to do better. BMI will continue to advocate for our affiliates, ensuring that all songwriters and composers can continue to earn a living creating the music that is loved all over the world."
The $1.118 billion in total distributions includes domestic and international royalties, as well as royalties from direct deals that BMI administers on behalf of its publishers. Distributions from these direct deals totaled $53 million, a $17 million increase over the previous year, representing approximately 5% of BMI's total distribution. Notably, BMI's overhead rate dropped to its lowest level in the company's history. When factoring in the impact of direct deal administration, a relatively new business for the company, BMI now distributes nearly 90 cents of every dollar directly back to its songwriters, composers and publishers. The company's revenue growth was driven by strong gains in the digital sector, as well as increases in general licensing and international revenues. BMI's digital revenue grew an impressive 32% to $215 million thanks in part to new deals with Amazon, Apple Music, Hulu, Netflix, YouTube, Sound Cloud and Spotify, as well as expansion into new digital markets including social media with Facebook and the fitness app Peloton. Digital now represents 24% of the company's total domestic revenue. General licensing, which encompasses 18% of BMI's total domestic revenue and is generated from businesses like bars and restaurants, hotels and fitness centers, along with other income, posted record results of $156 million, a 5% gain year-to-year. The company added 15,000 new businesses to its growing portfolio. Total domestic revenue, which is comprised of digital media, traditional television and radio, cable and satellite, and general licensing, grew to a record $880 million, up 5% over the prior year. Revenue from cable and satellite sources once again generated the largest portion of BMI's domestic revenue at 33%, while traditional television and radio revenue accounted for 25% of the overall domestic total. Notably, BMI's international revenue grew $25 million to an impressive $319 million, up 9% over the previous year. BMI processed nearly 1.7 trillion performances in FY '18, a 23% increase over last year. Of this total, 1.67 trillion were digital performances, or 97.7% of all performances processed, reinforcing the critical need for fair compensation for songwriters, whose musical contributions provide the very foundation of the streaming services' businesses.
The Estate of Michael Jackson Releases Statement Regarding ABC News Special on Michael Jackson
We want consumers to know that The Last Days of Michael Jackson, a television special airing on ABC TV (a subsidiary of The Walt Disney Company) tomorrow May 24, is not sponsored or approved by the Estate of Michael Jackson. It is particularly disheartening that Disney, a company known to strongly believe in protecting its own IP rights, would choose to ignore these rights belonging to the Estate. ABC was using a copyrighted photo and silhouette image owned by the Estate in the trailers and promotional material for the special. Only after notice from our attorneys to ABC News indicating they were infringing on our IP rights were the materials removed. We are told ABC intends to use music and other intellectual property owned by the Estate such as photos, logos, artwork, and more in the program itself, without having licensed the rights to any such material. Imagine if this was done with any of ABC's intellectual property. We believe the special to be another crass and unauthorized attempt to exploit the life, music and image of Michael Jackson without respect for Michael's legacy, intellectual property rights or his children. The Estate of Michael Jackson
Radio Facts: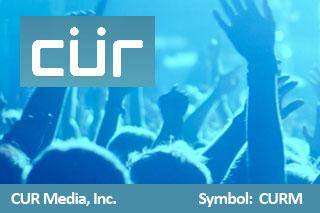 CÜR Media, Inc. announced an exciting, strategic partnership with DigitasLBi, a global marketing and technology agency transforming businesses for the digital
age
. Under the agreement, DigitasLBi New York will provide strategic planning, media buying, marketing and creative support tied to the launch of the Company's next generation
music streaming
app, CÜR, scheduled for 2015. "We are excited to team up with the proven leaders at DigitasLBi to attempt to
change
the face of the
music streaming
industry," said Tom Brophy, Founder and CEO of CÜR Media. "As a top ten global agency, DigitasLBi's expertise in brand
building
and creativity is unparalleled in the industry. We look forward to working together to successfully drive the expected roll out of CÜR this year." "We share an ambition to create and design the best customer content and experiences, that are as delightful as they are seamless. We look forward to bringing to
bear
our integrated
suite
of performance media, millennial marketing and creative strategy to a customer-obsessed and progressive company like CÜR Media," said Todd Stanley, EVP, DigitasLBi (New York).
BEN JEALOUS AND TRABIAN SHORTERS SPEAK TO MOREHOUSE STUDENTS ON NEW BOOK REACH
President of Moreshouse College joins discussion with Trabian Shorters and Ben Jealous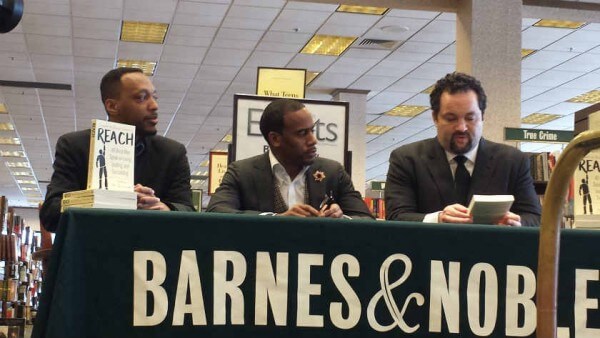 (ATLANTA, GA) – Benjamin Todd Jealous and Trabian Shorters kicked off the national tour for their inspirational literary project REACH: 40 Black Men Speak on Living, Leading, and Succeeding in Friday, February 6, 2015.  Atlanta was the first city impacted by REACH; and included a day of media buzz, and several activities celebrating the book's launch earlier in the week. Barnes & Noble Buckhead hosted the first book signing which included a conversation with Ben Jealous and Trabian Shorters speaking with an intimate group about how Reach came to life, and why they felt the timing was perfect for the project. The conversation was moderated by TV personality and community spokesman Jeff Johnson.
"There is genius in every zip code," Benjamin Jealous said. "Our young men will not duplicate what they do not see." Jealous then touched on how the book should be an inspirational instrument for 
African-American men. Jealous, Shorters and Johnson read their favorite excerpts from the book. After a quick Q&A from various audience members, the listeners had their personal copy of Reach signed by Jealous and Shorters.
The authors continued the celebration for, REACH, with a panel discussion at Morehouse collcge entitled, Reaching for Our Youth. The panel discussion included 20 pre-selected students from Morehouse along with media and community leaders. The conversation included the need for 
more positive African American male role models and touched on ways to incite the community to unite on issues such as education and economic empowerment. Jeff Johnson served as commentator for the event as well.
Along with Jelaous and Shorters, panel participants included; State Rep. Stacey Abrams, actor and activist Lamman Rucker, senior pastor of Ebenezer Baptist Church Dr. Raphael G. Warnock and president of Morehouse College John Silvanus Wilson. "There's a humility that has to come with self-empowerment," Lamman Rucker said. The audience connected with his explanation of being united and not separating because of class or wealth. Stacey Abrams told a detail story of why not being registered to vote is connected to indictments not happening. The panel concluded with a Q&A session from students.
The REACH kick-off concluded with a private reception at the private residence of John Silvanus Wilson, Morehouse college president. In addition to congratulating Jealous and Shorters, Wilson pledged to provide copies of the book for the upcoming Morehouse freshman class. Jealous and Shorters expressed their gratitude for the Morehouse support and the books Atlanta reception. They also thanked representatives from JP Morgan Chase for sponsoring the REACH tour.
REACH will impact NY, DC and LA next with additional cities to follow. Follow Benjamin Todd Jealous and Trabian Shorters on Twitter and Instagram:
@BenJealous
& @TSatKF This event is on social media here: #ReachTheBook #ReachWithUs About the Authors Benjamin Todd Jealous is the former president and CEO of the NAACP and a renowned public figure with a broad national audience. He is also a partner at Kapor Capital, an Oakland-based firm that leverages the tech sector to create progressive social change. A Rhodes Scholar, Jealous has been on the "40 Under 40" Lists of both Forbes and Time. In 2013, The Washington Post referred to him as "one of the nation's most prominent civil rights leaders." Trabian Shorters is a social entrepreneur with over twenty years of experience in diverse fields including national service, technology, nonprofit, and philanthropy. An expert on using asset framing to address social problems, Trabian is best known for applying it to black male issues. In 2011, he launched BMe Community while serving as vice president at the John S. and James L. Knight Foundation. Enchanted Branding & Public Relations is a multimedia marketing, branding and public relations agency with headquarters in Atlanta, GA and a partnership office in New York City. Enchanted Branding and Public Relations specializes in fusing creativity with strategic industry know-how to create impressionable and measurable customized campaigns, especially as it relates to entertainment/arts. Our agency has worked with top talent to segue their careers into alternate dimensions by cross-branding and promotion, exposing them to a larger consumer fan base. Enchanted Branding & Public Relations actively seeks exposure for clients that include television, print, radio and sponsorship opportunities. We strive to create opportunities for our clients relevant to their career goals and aspirations.