[caption id="attachment_182630" align="alignnone" width="1600"]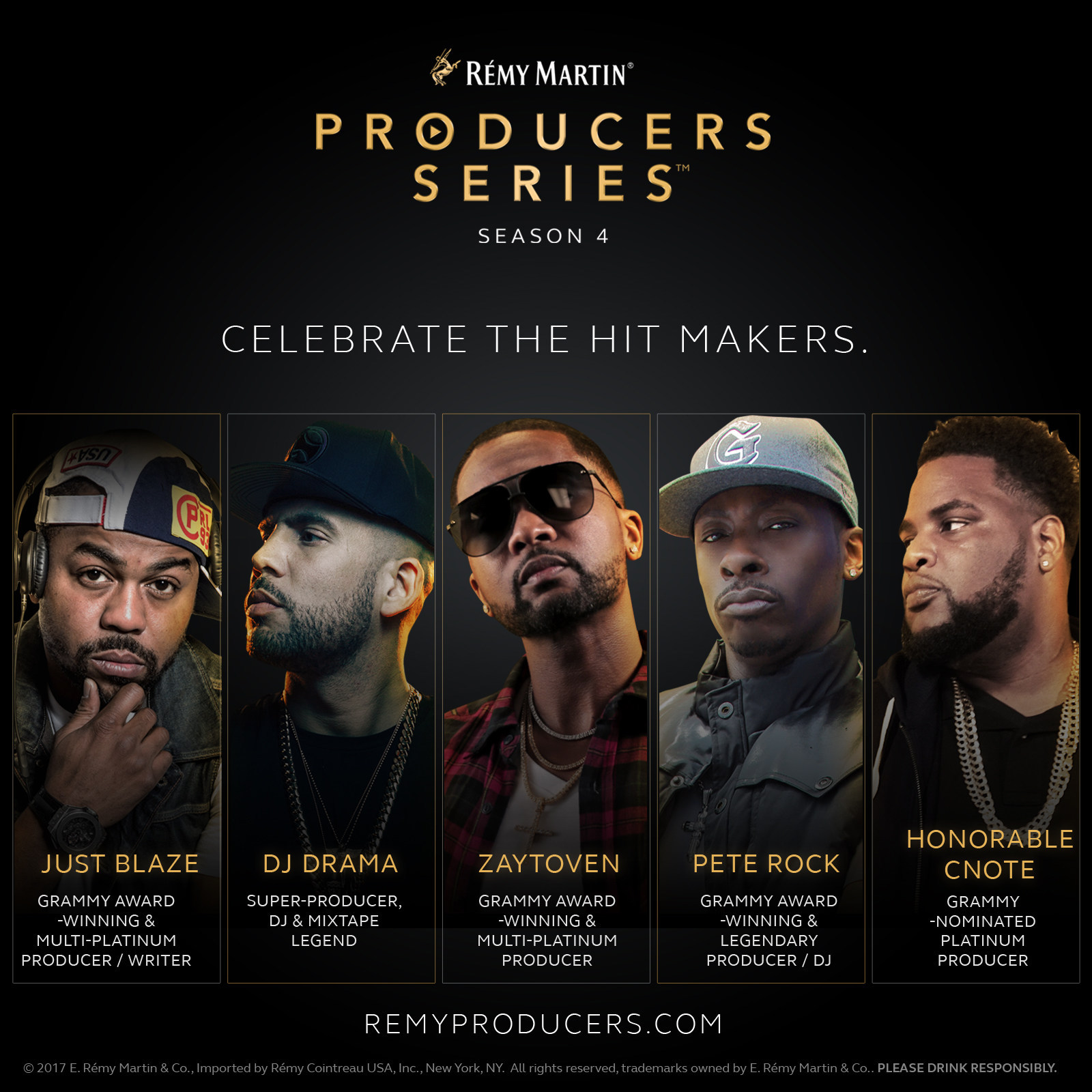 Producer Series Image (PRNewsfoto/Remy Martin)[/caption] The House of Rémy Martin Launches Season Four of the Producers Series Competition in Search of the Next Big Music Producer  The House of Rémy Martin has launched season four of the Producers Series. The
contest
provides a platform for up and coming
producers
to have their music heard and recognized. The
contest
to find the next super producer kicked off with a preliminary event on 
August 17
 in 
Chicago
, before embarking on a national 13-city tour including 
New York
, 
Los Angeles
 and 
Miami
. The semifinals begin 
September 28
 and the grand finale on 
November 9
 will take place in 
Las Vegas
. Contest participants submit their best tracks to RemyProducers.com for an opportunity to compete at the preliminary events. The preliminaries will yield 15 semifinalists who will advance to the five national semifinal events. Five finalists will be flown to 
Las Vegas
, for the Grand Finale and a chance to win 
$4,900
 from Guitar Center towards
building
their own personal music studio. "Rémy Martin celebrates the many talents and creative artistry of music
producers
through the Producers Series," says Thomas Beraud Sudreau, Rémy Martin Director for Culture & Entertainment. "The
contest
features some of the biggest music
producers
in the world, sharing insights into their process and succeeding in the music business." Rémy Martin has partnered with super
producers
DJ Drama, 
Pete Rock
, 
Just Blaze
, Honorable C.N.O.T.E. and Zaytoven, who most recently worked with Migos on their "Culture" album. "As a top music producer, partnering with Rémy Martin was a no brainer for me—they are one of the best cognac producers," says super producer
Zaytoven
. "We both push for excellence—to be the best. I respect that. I'm really looking forward to sharing my story and success with the next wave of top
producers
. This is a great opportunity for the innovators." Each event will be hosted by radio DJ Jay Claxton. Contestants will be judged by the super-producer, radio personalities and deejays, and record label executives: 
Theo Brown
, 
Rebe Espinosa
 and Vashon "Rap" Straws. Past seasons of the Producers Series have included Timbaland, Wyclef Jean, DJ Premier, Salaam Remi, Mike Will Made It, DJ Mustard, 
Jahlil Beats
, and AraabMuzik. Visit RemyProducers.com for more information, rules, and submission deadlines for the competition.
TOUR SCHEDULE
EVENT / CITY

DATE

VENUE

 SUPER PRODUCER

PRELIMINARIES (13)

CHICAGO, IL

8/17

353 W Hubbard Street

DJ Drama

DETROIT, MI

8/24

Garden Theatre

3929 Woodward Avenue

Honorable C.N.O.T.E.

CLEVELAND, OH

8/26

740 W Superior Avenue

Honorable C.N.O.T.E.

MIAMI, FL

8/28

235 23rd Street

DJ Drama

INDIANAPOLIS, IN

8/31

8215 Center Run Drive

Pete Rock

ST. LOUIS, MO

9/01

6133 Delmar Boulevard

Pete Rock

WASHINGTON, DC

9/05

1420 K Street NW

Pete Rock

BOSTON, MA

9/12

100 Warrenton Street

Honorable C.N.O.T.E.

LOS ANGELES, CA

9/14

6507 Sunset Boulevard

DJ Drama

NEW YORK, NY

9/18

Marquee

289 10th Avenue

Just Blaze

SAN FRANCISCO, CA

9/21

1525 Mission Street

TBA

SEATTLE, WA

9/23

2946 1st Avenue South

TBA

PHILADELPHIA, PA

9/26

33 E Laurel Street

DJ Drama

SEMIFINALS (5)

CHICAGO, IL

9/28

353 W Hubbard St, Lower Level

Zaytoven

HOUSTON, TX

9/30

207 Gray Street

Zaytoven

LOS ANGELES, CA

10/12

Avenue

1601 Cahuenga Boulevard

Zaytoven

NEW YORK, NY

10/16

Lavo

39 E 58th Street

Zaytoven

ATLANTA, GA

10/17

1150 Crescent Ave NE B

Zaytoven

GRAND FINALE (1)

LAS VEGAS, NV

11/09

3377 S Las Vegas Boulevard

Zaytoven
The winning band will play Sonicbids Official SXSW Party, presented by JanSporTJanSport, the original outdoor gear Brand that equips people globally with quality backpacks, travel gear and collegiate apparel, today announced its third annual Battle of the Band s competition in conjunction with Sonicbids, the website that helps band s get gigs and promoters book the right band s.Now through Nov. 1, 2010, amateur, unsigned band s who have submitted to SXSW are invited to submit a song, photo, video and bio for the chance to win the JanSport Battle of the Band s contest.
Radio Facts: Seattle Radio Station's 'Crappiest Towns' Contest Causes Stir In Iowa Posted: 1:41 pm PST January 28, 2010Updated: 3:14 pm PST January 28, 2010 SEATTLE -- People in Des Moines, Iowa, are angry at a Seattle radio station that promises to send a listener to see a "cool band " in what the station calls one of
Radio Facts: Seattle Radio Station's 'Crappiest Towns' Contest Causes Stir In IowaPosted: 1:41 pm PST January 28, 2010Updated: 3:14 pm PST January 28, 2010SEATTLE...