[caption id="attachment_242260" align="aligncenter" width="400"]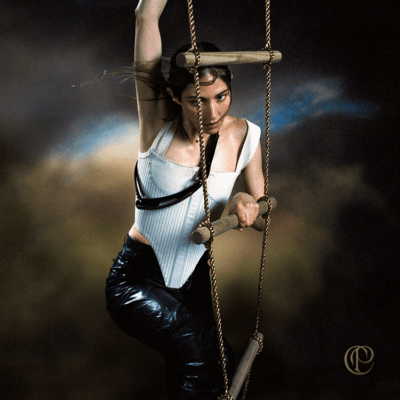 Caroline Polachek "Pang" Official Cover[/caption]
Caroline Polachek
has unveiled the artwork and tracklist for her forthcoming album Pang, her first solo album under her own name, ahead of its release on October 18. The LP features lead single "Door" as well as "So Hot You're Hurting My Feelings," "Parachute" and "Ocean of Tears." See full tracklist below. Fans can pre-order Pang
HERE
. There is also a vinyl offering, which will be pressed on 180 gram, colored vinyl, and is available for
pre-order
. Last week, Caroline Polachek shared the video for her track "So Hot You're Hurting My Feelings." The video takes place in a fiery hellscape and features the return of Caroline's signature choreography, co-directed with visual artist Matt Copson. The track itself premiered as Annie Mac's Hottest Record in the World on BBC Radio 1. Listen to "
So Hot You're Hurting My Feelings
"
HERE
. Caroline will celebrate the release of Pang with live performances in select US and European cities, starting October 24th. For tickets and more information, please visit her website.
Pang Tracklist:
The Gate Pang New Normal Hit Me Where It Hurts I Give Up Look At Me Now Insomnia Ocean of Tears Hey Big Eyes Go As A Dream Caroline Shut Up So Hot You're Hurting My Feelings Door Parachute
Dates City Venue
October 24, 2019 Los Angeles, CA Zebulon* October 27, 2019 New York, NY Bowery Ballroom* October 30, 2019 London, UK Hoxton Hall* October 31, 2019 Berlin, DE Burg Schnabel November 2, 2019 Paris, FR Pitchfork Paris November 3, 2019 Amsterdam, NL Paradiso January 1, 2020 San Francisco, CA The Independent January 18, 2020 Brooklyn, NY Warsaw February 1, 2020 Los Angeles, CA The Fonda Theatre *denotes sold out date
Radio Facts: More times than not in the today's media black men are portrayed in a negative light and the music industry sometimes gets...
Cohen Media Group Buys Landmark Theatres From Wagner/Cuban Companies
Nation's Largest Independent Theater Chain Sold to Indie Film Distributor and One of the Country's Most Influential Patrons of Culture and the Arts
Landmark Theatres, the nation's largest specialized theater chain dedicated to independent cinema with 252 screens in 27 markets, has been purchased by Cohen Media Group, an Academy Award-winning independent theatrical distribution and production company. The announcement was made jointly today by Landmark Theatres President/CEO 
Ted Mundorff
, Cohen Media Group Chairman 
Charles S. Cohen
, 
Todd Wagner
 and 
Mark Cuban
. Terms of the sale were not disclosed. Cohen will retain the senior management team of Landmark Theatres. Landmark established itself at the forefront of luxury cinema and was the first chain to introduce non-conventional seating with the installation of couches and love seats in its theatres. Landmark was also first to employ DCP digital projectors. And on the programming side, the company has become a recognized industry leader in the sector, providing customers with a wide variety of films including commercial, independent, foreign language and documentaries. Landmark was acquired by 2929 Entertainment from Oaktree Capital in 2003. Under Wagner/Cuban's ownership, Landmark, has grown to become the pre-eminent flagship brand in the sophisticated arthouse exhibition business known for its destination locations, The Landmark in 
Los Angeles
 and The Landmark at 57 West in 
New York City
, favored by filmmakers and studios to host Award season events and screenings, as well as other iconic locations including the E Street Cinema and The Landmark Atlantic Plumbing Cinema in 
Washington DC
, The Landmark at Merrick Park in 
Coral Gables, Florida
, and The Landmark at 
Greenwood Village
 in 
Denver's
 flourishing Tech Center. "Anyone who knows Charles, knows he is an avid lover of art and cinema, and this deal to purchase Landmark serves so many of his true passions and interests," said Mundorff. "By acquiring our chain, he has supercharged and scaled his distribution footprint in the arthouse sector, where he has been a savvy distributor and producer for many, many years. He has also acquired the crown jewel in the arthouse exhibition arena with prime A-list locations and an established loyal base of customers who love our theaters, brand and diverse range of extraordinary, high-quality programming choices throughout the year." "I have been in the arthouse business for a long time as both a distributor and a producer, and I know better than most, that these films need a special home and require the utmost care. Landmark is that home. I have long admired and respected the way Landmark has built and grown its business from the ground up and I love this area of the business," said Cohen. "As the independent market has changed over the years, Ted and the entire Landmark team have done an outstanding job adjusting with the times, anticipating trends and opportunities and new areas for growth and exploration. I couldn't be more excited to add Landmark to Cohen Media Group's portfolio of companies. This is a phenomenal fit with our other businesses, and this deal will be welcome news to the filmmakers we do business with or plan to work with in the arthouse arena in the years ahead." "We are thrilled that we are passing the baton to Charles, a buyer who is passionate about independent cinema and who truly understands this market. As we complete our sale, we expect the transition between owners to be smooth and seamless with little to no impact on our staff or customers," said Wagner and Cuban. Landmark is at the forefront of independent exhibition. The company provides filmgoers with numerous amenities, including the best in digital projection, seating, gourmet concession items, as well as Landmark's signature brand of customer service. Screening Lounges can be found in many locations featuring a comfortable, unique seating experience. Cohen Media Group was formed in 2008 by 
Charles S. Cohen
, an executive producer of Frozen River, which garnered two Academy Award nominations. The Cohen Media Group (CMG) is an Academy Award-winning independent theatrical distribution and production company, releasing the world's best in contemporary and classic cinema. Cohen Media Group distributes select films throughout 
North America
, allowing the CMG team to devote their best efforts towards each film's fullest potential. CMG has released multiple Academy Award-nominated films, including Timbuktu, Mustang, and 2017's Academy Award-winner, The Salesman. In addition to a dedication to high-quality new releases, Cohen Media Group also restores classic films under the label, Cohen Film Collection. The restorations, which include the Merchant Ivory collection and the Buster Keaton catalog, are re-released theatrically in pristine transfers and presentations. Landmark Theatres is part of the Wagner/Cuban Companies, a vertically integrated group of media properties co-owned by 
Todd Wagner
 and 
Mark Cuban
 that also includes theatrical and home entertainment distribution company Magnolia Pictures, production company 2929 Productions, and high definition networks AXS TV and HDNet Movies. Stephens Inc. served as exclusive financial advisor to Landmark in the transaction.
THE AFRICAN AMERICAN FILM CRITICS ASSOCIATION (AAFCA) @ 15
Morgan Stanley Global Sports & Entertainment and Variety Celebrate the Milestone with a Special Tribute https://variety.com/2018/film/news/aafca-15-years-of-progress-1202922279/ (Los Angeles) – The African American Film Critics Association (AAFCA) is the subject of a special tribute appearing in the September 4th edition of Variety - the world's leading trade publication covering film and television. The special spotlight features a comprehensive look at AAFCA's evolution since its start in the fall of 2003 to its present status as an institution with growing influence in Hollywood. Sponsored by Morgan Stanley Global Sports & Entertainment, Variety's special look at AAFCA includes an interview with AAFCA founders Gil Robertson and Shawn Edwards, as well as tributes from some of the most important names in the entertainment industry. "The collective members of AAFCA are accomplished journalists who are dedicated to ensuring that the Black experience in film and television is seen, heard and that stories told through an inclusive lens matter. Morgan Stanley is delighted to partner with an organization that recognizes excellence in the work of a diverse body of directors, writers, producers and, actors in film, television, and new media," says Sandra Richards, Managing Director and Head of Global Sports & Entertainment and Segment Sales & Engagement Wealth Management at Morgan Stanley. Fittingly, AAFCA is increasingly recognized for its annual awards show - the AAFCA Awards. Established in 2009, the AAFCA Awards have grown to become a strong bellwether of what films and performances will see success during Hollywood's awards season. Long before awards season, however, AAFCA is active throughout the year partnering with academic institutions, film festivals and community spaces across the nation in support of its primary mission of outreach as a critical pipeline to the next generation of Black entertainment journalists, film critics, content creators, and audiences including: Synergy - AAFCA's entertainment industry-focused networking events; select film screenings and discussions of Black films, and participation in numerous festival panels, industry forums, and seminars. Within the industry itself, AAFCA has steadily become a trusted voice of advocacy for diversity and inclusion. "We are deeply committed to being a part of "the change we want to see" in our industry," says AAFCA president, Gil Robertson. "The programs we produce and the filmmakers, writers, producers, executives, and more we support all help to create wider platforms for creators of color as we work to weave diversity and inclusion into the very fabric of our industry." Variety's AAFCA tribute coincides with the organization's curation of the Turner Classic Movies "The Black Experience on Film," an eight-part series highlighting 32 iconic films hosted by the organization's founders and members running throughout September. AAFCA has also partnered with the Academy of Motion Pictures Arts & Sciences (the Oscars) to produce a special pipeline program for next-gen creators at the Savannah College of Art and Design. For more information, please visit:
www.aafca.com
.
UMG to Provide Multifaceted, Global Support to Band's Iconic Recorded Music and Audio-Visual Work Including Merchandising, Brand Management and Archive
The Rolling Stones and Universal Music Group (UMG), the world leader in music entertainment, today announced an expansive worldwide agreement covering the band's iconic recorded music and audio-visual catalogues, archival support, global merchandising and brand management. This multi-faceted partnership marks the beginning of a new era of expanded collaboration between The Rolling Stones and UMG. Few bands in history have so profoundly impacted global culture as The Rolling Stones. Through their powerful music, infectious live performances, unique visual identity and attitude, the band is renowned throughout the world to audiences of all ages, widely influencing popular culture through art, fashion and film. With UMG, the band has a partner that complements and supports their global stature, with expertise and resources that enable the band to maximize their reach while underscoring their enduring cultural relevance across numerous forms of entertainment. In making the announcement, Sir Lucian Grainge, Chairman & CEO of Universal Music Group, said, 
"After a decade of working in partnership together, we are thrilled to expand and extend our relationship with The Rolling Stones.  We look forward to bringing our expertise and passion to bear as we put our global organization to work on behalf of this iconic band who continue to create music and influence culture around the world."
David Joseph, Chairman & CEO, Universal Music UK, said, 
"The Rolling Stones continue to define rock and roll, they are loved the world over and they are the band who never let up. It's a privilege to work with them and Joyce Smyth, their exceptional manager."
Joyce Smyth, The Rolling Stones manager said, 
"For many years now we've had a wonderful partnership with Universal Music and look forward to an even more successful future together.''
As part of the agreement, UMG extends its position as the home for The Rolling Stones' iconic catalogue, which includes some of the most celebrated and influential albums of all time, from Sticky Fingers through to 2016's Grammy award-winning Blue & Lonesome. UMG will continue to distribute the band's celebrated recorded music catalogue globally with future projects and reissues to be released through UMG's labels and networks around the world. Bravado, UMG's brand-management and merchandise company and the leading global provider of consumer, lifestyle and branding services to recording artists, will handle global merchandising rights, retail licensing, brand management and e-commerce on behalf of the band, including their iconic tongue logo, one of the most universally recognized symbols in entertainment. At the same time, Bravado will continue working closely with the band and management to identify new and innovative opportunities for creative collaboration within the worlds of art, fashion, retail, sport, lifestyle and touring merchandise to excite and inspire their millions of fans around the world.  Recent programs and collections include partnerships with Paris Saint Germain FC, Selfridges, Colette and Zara and newly designed merchandise for their No Filter European Tour. Eagle Rock, the UMG-owned leading producer and distributor of music programming for broadcast, DVD, Blu-Ray, TV and Digital Media, have expanded their global distribution rights to the band's extensive long-form audio visual catalogue. As part of the agreement, Eagle Rock will also re-issue several classic concert films from their archives including: Atlanta (1989); Steel Wheels (1989-90); Voodoo Lounge (1994); Bridges to Babylon (1997-1998); Four Flicks (2002) and Bigger Bang (2005-2006). In addition, UMG will provide The Rolling Stones with archival support and dedicated space for the band's physical media assets, musical instruments and equipment across the company's ecosystem of vaults positioned around the world. Universal Music Group has been home to the Rolling Stones since 2008, and with this extended agreement sees UMG leverage the company's global network of industry leading businesses spanning more than 60 countries to support the multimedia creative output of one of music's most iconic and influential artists.