Radio Facts: Radio Facts: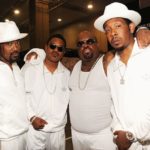 Hip Hop continues to show its power as ATL rap group, Goodie Mob has inked a deal to perform for JetBlue Airways.
JetBlue Airways, New York's Hometown Airline™, today announces an exclusive live performance by the critically acclaimed rap group Goodie Mob on Monday, September 9, 013 at 6 p.m. This exclusive concert marks the first hip hop music performance as part of the airline's Live From T5 Concert series. The series features surprise and delight concerts held post-security at Terminal 5 (T5) at John F. Kennedy International Airport (JFK) in New York. Concerts are available exclusively to ticketed customers and lucky contest winners.
Celebrating their reunion after a 14 year hiatus, Grammy-Award winning artist CeeLo Green will join original Goodie Mob group members Big Gipp, Khujo and T-Mo to perform selections from their new album "Age Against the Machine," which drops on August 27. The group will perform their first single off the new CD, "Special Education" which features Janelle Monae, as well as other songs. CeeLo will also perform some of his solo hits.
JetBlue and Goodie Mob have partnered with the group's management team at Primary Wave Music to provide some of Goodie Mob's biggest fans with special access to this show and an opportunity to meet the group. Additionally, as a special treat, JetBlue will provide a once-in-a-lifetime opportunity to several lucky TrueBlue members plus their guests traveling through JFK on the day of the show. As top members of the airline's loyalty program, these devoted customers will receive a special invitation to personally meet CeeLo Green before the performance.
"It's an honor for Goodie Mob to be the first hip hop music group to perform during JetBlue's unique Live From T5 Concert series," said Goodie Mob's CeeLo, Big Gipp, Khujo and T-Mo. "It will be a special night, in a special atmosphere and Goodie Mob is ready to bring guests and fans some real special education."
"JetBlue's Live From T5 concerts brings our customers something special and unexpected," said Lisa Borromeo, JetBlue's director of brand management and advertising. "We are excited to host this reunion performance of Goodie Mob, true pioneers of hip hop music."