Radio Facts: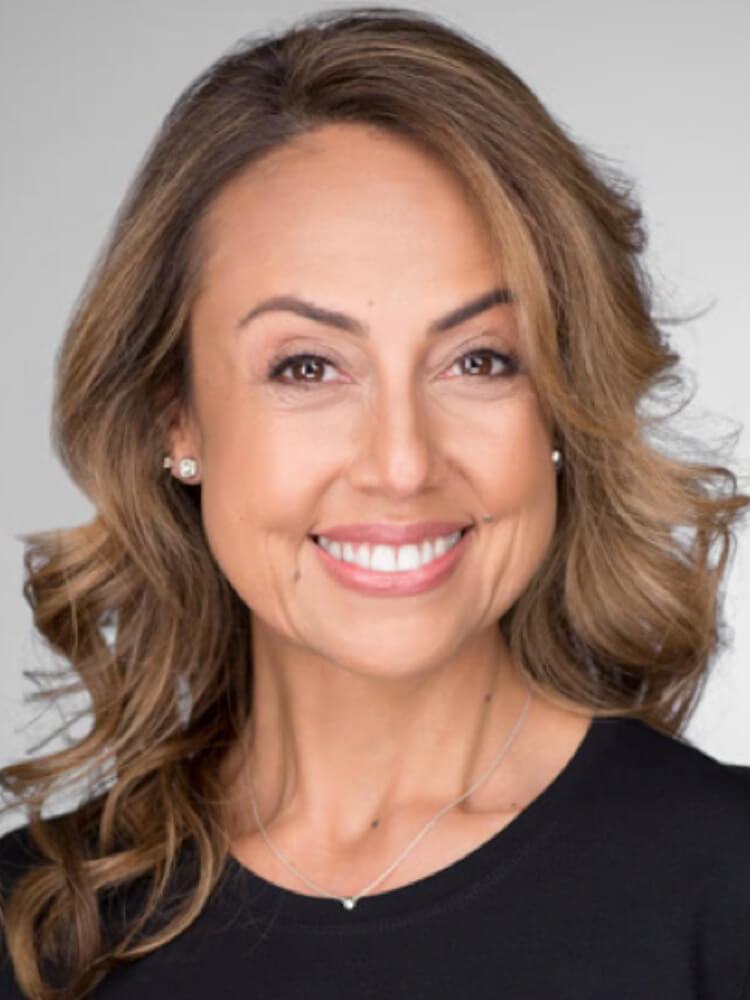 Deja Orjuela was featured in our 2018 Women of Color in Media Magazine
Delia Orjuela Vice President of Latin Music, BMI
Latin music artists and rhythms are driving pop and urban music these days. As Vice President of Latin Music within BMI's Creative department, Delia Orjuela works closely to develop and support new songwriters and publishers, serving as a liaison between the Latin music community and the music industry at large. She's worked with a who's who's who of Latin music talent, including Pitbull, Luis Fonsi, Juanes, J Balvin, and many others.
Tell me a little about where you grew up.
Sure. I was born and raised in Mexico City, Mexico, and I came to California when I was 15.  I attended Edison High in Huntington Beach, and it was definitely very different.  When I was in Mexico City, I attended an all-girls British School, and then I came here to a high school, right on the beach.  It was pretty amazing, it was like being in a movie. For me, it was very different.  But it was exciting and I really enjoyed it. From there, I went to Long Beach State. That's when I majored in Journalism, and I minored in French.
Is that when you were bitten by the bug to work in entertainment? 
No, actually, no.  Growing up, I was so fascinated.  There was this TV show called "Siempre Domingo" – "Always on Sundays" – and [the host] would have all of these artists perform.  It was from six to eleven o'clock at night. I remember there were times that I would be all upset because I would have to go to bed and didn't get to see the artists that I wanted to see on TV.  But that fascinated me because when you're a teenager, you're a fan of artists and now going back [I can see] how it relates to what I do now. I always loved to sit in the living room, my grandma had these old LP players, you know, and I would sit there with my headphones and I would love to read the lyrics of the songs and just look at the credits, find out who wrote the songs, and who produced, you know. I just loved being involved with music. I didn't imagine myself performing or anything, but I just loved music.
How did that lead to your entertainment career? You did news reporting at one time, correct?
Yep, because when I started my [career], we started CNN en Español. I started freelancing there, and they decided to partner with Telemundo and they decided to do a twenty-minute entertainment segment, and I would go out and do the interviews, and I would be excited. My first interview was Marc Anthony. I remember, and that was when he was going to do that cameo in that movie Carlito's Way. It was pretty cool to be out in the field, with the, Rodney King trials and the earthquakes, the fires in Malibu, there was a lot going on.
Yeah, the early '90s.  How did you come to work at BMI?
That happened because … from CNN I went to RMM, which was Ralph Mercado's record label. They had Tropical artists Celia Cruz, Tito Puente, Eddie Palmieri – it was the hub for salsa and Latin jazz.  And from there, I came to BMI because my former boss here at BMI used to work at RMM, and I took a trip to New York to visit a friend of mine who was her assistant, and she introduced me when we were at a concert.  We spoke, and then I said "hello" to people from my CNN days, and I knew some of the artists and managers who were backstage. Then they called me and asked me if I would be interested, [because] she was going to have a position open here in the L.A. office to start in the Latin division because she didn't have someone here before. Then I interviewed and came here.  And here I am, twenty-one years later.
Wow!  Okay, so obviously you love what you do.
Yes. I think I told you that every morning, I get up happy to come to work. I really enjoy what I do. I'm one of those fortunate people that really love what they do.
That is the key.  It's like when you wake up and you're excited about the day, that's when you know that you're doing what you love.
Yeah, definitely.  Obviously, it's not like every day's perfect, but what I am doing for writers, working with the ones that I have been working with since they were on here, I just love it.
What part do you play in the BMI Latin Music Awards? 
I am involved in all of it from the beginning, from working on who's going to be an honoree, from the guest list, just all aspects, planning the show, presenting the awards.  So, a little bit of everything.
That has to be challenging because it's very minute-to-minute, you don't know what to expect.
Yes. It is a challenging event, just because from confirmations, from not knowing the [exact] day of the show [at first] …  I remember one year we were honoring Los Lobos the day before when I get the text that they're not going to perform. Oh, no, what happened? From stuff like that, to then, before you go to bed, that text saying, no he's not going to do it and you go, "okay." It's a roller coaster of emotions during that period, but at the end, presenting that very first award of that songwriter, and you know them, that it means working hard, and struggling, and then you get to say, "receiving his first award," it's very rewarding.
I'm sure that once the awards are done that you're spent; you probably have to sleep for a whole day or something.
Not necessarily, because usually the next day, you still have the texts, the emails, the transportation, people missing their flights, so, it's still going on, the next days.  I wish I could sleep all day, but no, it doesn't happen like that.  It's part of it all, you know, just going over things: we should have done this, we should have done that, or this was so special, you know, it goes on.
What are some of the acts that you have worked with? Or some of the talent that you've signed that have done very well?
There is the Colombian artist, Juanes. I get so thrilled and excited to see how his career has developed and where he's at right now because we started together. Remembering someone like Espinoza Paz, the first time we saw him perform, it was in a little show in Mazatlán, Mexico. And Pitbull, Luis Fonsi, J Balvin now …  there's so many and I don't want to forget someone! Because everybody is so special, and that's what makes it special here at BMI, we do become a family and we get close to our writers. It's a special relationship.
Pitbull has evolved quite a bit over the years.
Yes, he has, definitely.  I remember the first meeting at a bar we had in our hotel in Miami, and just, you know, he was just there!  He came to the meeting, and he had the skill and we had that relationship and, you know, for him to talk to us, and for him to say, you know, "thank you for the meeting," that's special. When people are honored and there's loyalty, we just all work together.
What do you think about streaming and the future of the industry?
I just feel like it's going so fast! Things have definitely changed.  It's just so immediate, and, obviously, that consumption of music is just crazy; you can get access to music from all over the world at any time, and that's fascinating as well. At the same time, it's overwhelming because you try to keep up-to-date with everything and it's hard.  There's a new artist every how many minutes: Someone new in Chile, someone new in Japan, someone new here. It's hard to keep up, but at the same time, it's an exciting time for music, definitely, because it's so diverse and that's fascinating to see how everybody's cooperating, how people are really going out of the box to not be so specific about the style of music they're doing. Everybody wants to explore, or: You know what? I like that rhythm, I like that beat, I would love to do lyrics in Spanish, or now do lyrics in Portuguese, or …  and there's no set formula anymore that could work.
What is the best and worst way for a potential songwriter to approach you?
Now that's a good question.  I'm older so, the first time is still that old-school [method] that I still love to find new music. I get random emails and I am not a very email-friendly person. I still reply. And … at events and conferences, I do like getting new music. I do listen, and I think I'm very honest with my comments. I always say … just because I don't like it doesn't mean it's not good. It's just that we all like different styles, and we're all trying for different music. But I like to feel I'm giving constructive criticism when anyone asks because it's important. I guess there's a good way to approach me, I guess I'm very approachable! Probably too much sometimes! We all want an opportunity and a chance, and we're an open-door policy company, also, and I really like to follow that, because we never know who is going to be a star.
Do you interact with younger people, individually or as part of your team, to ask questions if you're not sure about something? Or are you steadfast in your own thinking?
Oh, no.  I am very much a team person.  And I like that, and I love to hear new ideas, and it also helps that I have a 16-year-old daughter who loves the business and is always telling me, "Have you heard so and so?" Or, "Why don't you guys do this?"